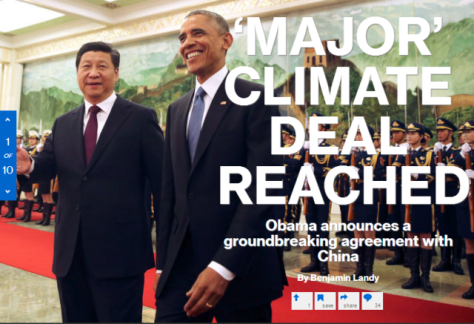 Back in 2009, China was a reluctant partner during major climate negotiations in Copenhagen that eventually collapsed amid recriminations between rich and poor nations. This time around the world's biggest polluter is regarded as a driving force behind what could be a comprehensive deal at a world climate summit in Paris.
The change in stance has a lot to do with the record levels of foul air that often hang over China's major industrialized urban centers, undermining public health. The resulting backlash over the smog has made President Xi Jinping's government far more serious about combating climate change and investing in cleaner forms of energy.
China's resolve will be tested along with other countries as world leaders, including U.S. President Barack Obama and China's Xi, gather in the French capital on Monday. The talks organized by the United Nations are scheduled to run for two weeks and include the biggest ever gathering of leaders on a single day.
The road to Paris for China and others has been in the works for some time.
In March 2014, Chinese Premier Li Keqiang declared war on pollution, telling the National People's Congress that his government would accelerate efforts to tackle environmental problems. At the same time, China has embarked on a makeover designed to shift its $10 trillion-plus economy away from reliance on big, energy-consuming heavy industries and toward services and consumer spending. For climate deal warriors, both moves have added up to a big and welcome policy shift.
"The fact that you've got some countries like China and Russia actively talking about their role is a complete change, so we've made tremendous progress," U.K. Energy and Climate Change Secretary Amber Rudd said in an Oct. 15 interview in London.
The nascent alliance between the world's two biggest polluters stands in stark contrast to Copenhagen in 2009 where China's premier at the time, Wen Jiabao, missed a scheduled meeting with Barack Obama, and the U.S. president later forced himself into a meeting of the Chinese with Brazil, South Africa and India in order to get face time with the leaders he felt necessary to forge a lasting deal.
Copenhagen Failure
Ultimately, the Copenhagen deal broke down because of opposition from a host of smaller countries, including Sudan, Cuba, Nicaragua, Venezuela and Tuvalu.
Since then, "the United States has invested enormously in a better dialog with China and the other major economies," former UN climate chief Yvo de Boer, who now heads the Global Green Growth Institute, said in an Oct. 29 telephone interview from Seoul.
China's engagement this time around has been one of the biggest game changers in the climate story and received a boost when Obama and Xi announced an accord in November 2014 committing to work together to combat the greenhouse gases that result from burning fossil fuels such as oil and coal. As part of the deal, China set a deadline of 2030 for emissions to stop rising. It's on track to meet that commitment before then, said Tim Buckley, director of energy finance studies at the Institute for Energy Economics and Financial Analysis in Cleveland.
China's Xi, building on the November 2014 accord with Obama, promised in September that China will start a national pollution-trading system to cut global-warming emissions in 2017. China will also partner with the U.S. on other ways to cut emissions, has pledged $3.1 billion to help developing countries combat climate change and also promised to cut carbon dioxide emitted per dollar of economic output by 60 percent to 65 percent from 2005 levels.
"The fact that the United States and China at the presidential level joined arms and stepped forward in November of last year in the ramp up to 2015 and put forward strong targets together, these two historic antagonists at the presidential level, was a big shot in the arm to the negotiations," Todd Stern, U.S. special envoy on climate change, told reporters Oct. 23 during a conference call.
Caught by Surprise
The November 2014 accord between the U.S. and China, which together emit more than 40 percent of global CO2 pollution, caught many by surprise and is seen by some as a strong signal that Paris could result in a globally binding deal.
"The U.S., China accord in November 2014 was really historic," former Indian Environment Minister Jairam Ramesh said in an interview last month. "It completely caught India off guard. I knew something was in the works, but I expected it to happen sometime in March 2015. I was completely flabbergasted."
Ramesh negotiated for India in Copenhagen, but his party was out of power by the time China and the U.S. struck their deal in 2014.
China's pollution scourge is a public health crisis. Air pollution is killing 4,000 people a day in the country, according to a recent study by Berkeley Earth, an independent research group funded largely by educational grants. The researchers cited coal burning used to produce electricity and heat homes and offices as the likely principal cause.
Much of the drive to do something about emissions in China is borne by the need for action on pollution.
Earlier this year, China's air quality took center stage following the release of a film made by well-known Chinese reporter Chai Jing called "Under the Dome," a reference to the Stephen King novel of the same name depicting residents of a small town in Maine trapped in a mysterious bubble.
Deadly Pollution
The latest reminder came earlier in mid November when residents of northeastern China were enshrouded in some of the worst smog on record with levels of PM2.5, small airborne particles that pose the greatest risk to human health, soaring to almost 56 times the levels considered safe by the World Health Organization in some areas of Shenyang.
Countering climate change "is in line with China's willingness to solve regional environmental pollution," Dai Yande, director general of the Energy Research Institute under the National Development and Reform Commission, said in Shanghai in early November. China's pledges are "very political and challenging."
China's energy transformation is also driving its climate aspirations. Where the nation was an afterthought in renewable energy at the time of the last global climate summit in Copenhagen, China is now the biggest player.
"China wants to learn lessons from the Copenhagen talks," said Li Shuo, a climate policy adviser at Greenpeace East Asia. "As coal consumption slows and renewable energy rises, China has more room in international negotiations," making the nation more supportive to a climate deal.
Renewables Spark
China was the biggest renewables market in the world with 433 gigawatts of generating capacity at the end of 2014, more than double the second place U.S., according to Bloomberg New Energy Finance data.
The Asian nation added more than four times as much clean energy capacity as the U.S. in 2014. Moreover, solar installations have gone from about 300 megawatts in 2009 at the time of Copenhagen to almost 33 gigawatts at the end of 2014 — a 110-fold increase. China accounts for almost one of every three wind turbines in the world at the moment.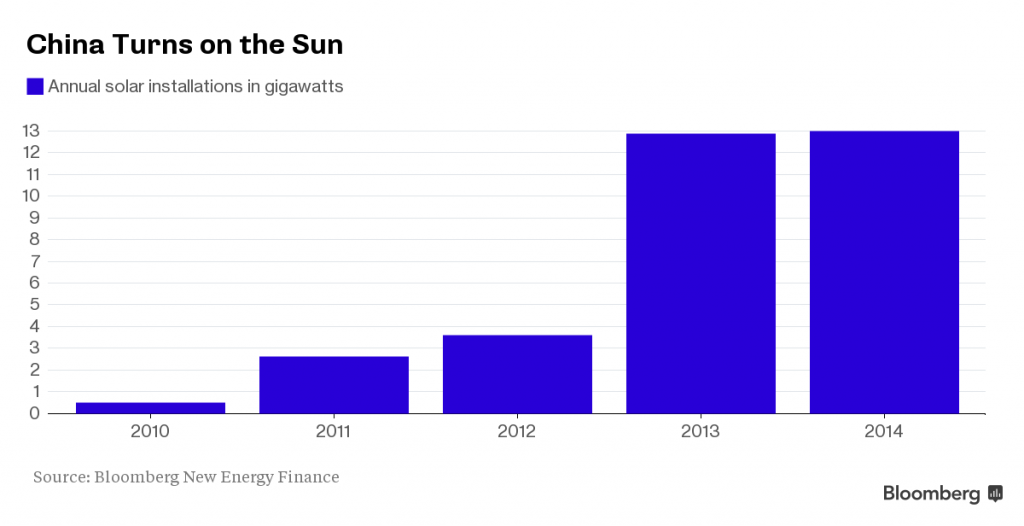 More is to come. The November 2014 accord, and China's own commitments calls for the nation to get a fifth of its energy from low-carbon sources by 2030. That means adding as much as 1,000 gigawatts of low-carbon emitting energy supplies within the next 15 years, or an amount roughly equal to the total of all electricity currently produced in the U.S.
Coal is also on the wane. New coal plants in some urban areas have already been banned. In March, Beijing vowed to close the last of its major coal-fired power plants next year. According to estimates from Bloomberg New Energy Finance, China could see a net closure of coal plants in the early 2020s.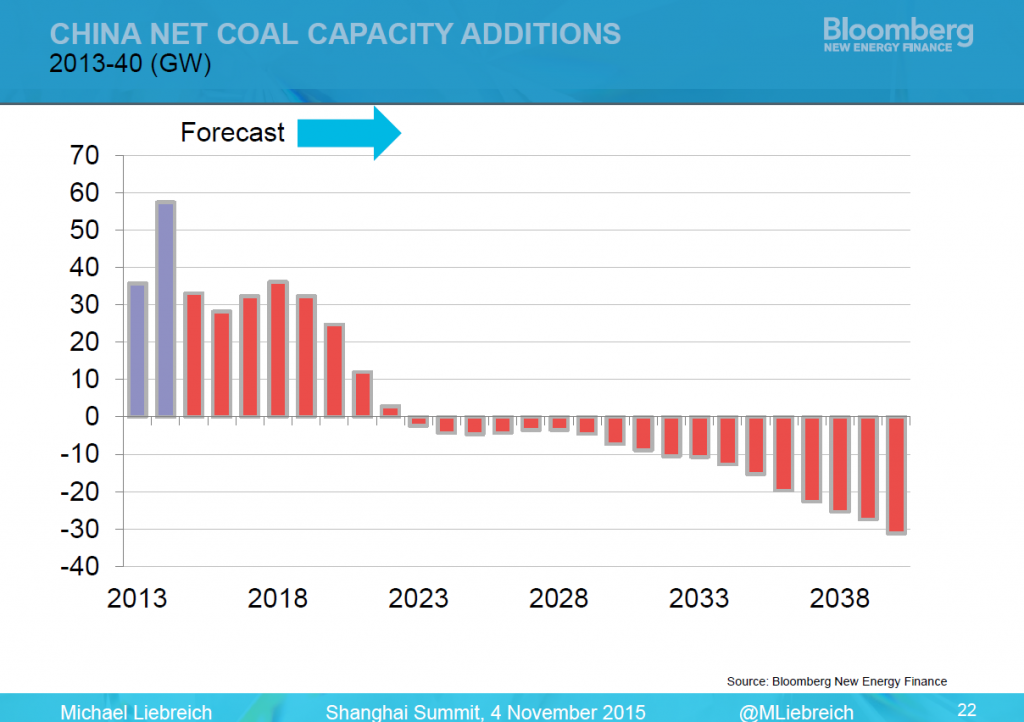 "Peak demand for coal will happen at some point for China in the future and if anything this year has brought a number of surprises and indicators, whether it's economic growth or electricity demand consumption," said Justin Wu, an analyst with Bloomberg New Energy Finance in Hong Kong. "Everything is pointing to the (coal) peaking happening earlier or sooner than even previous estimates."
The change in China's position is the result of the nation's recent pivot to an economic model based on domestic consumption and away from exports and development at all costs, said a French government official, who asked not to be identified in line with policies.
"The unity of economic development and energy growth is now broken," Michael Liebreich, the founder of Bloomberg New Energy Finance, said in an interview. "The economy can develop and energy can go in a different direction. You can get divergence between economic growth and energy growth, and particularly divergence from fossil energy growth."
Growth Decoupling
China's service industry is starting to account for a greater percentage of economic output, rising 2.3 percentage points in the third quarter compared with the year earlier, according to data from the National Bureau of Statistics.
As China focuses more on services "energy demand won't be as big as before and the nation could easily use clean energy installations to meet the growth in energy use rather than coal power," said Lin Boqiang, director of the Energy Economics Research Center at Xiamen University.
To be sure, China remains a voracious consumer of coal regardless of the boom in clean energy. The most polluting fossil fuel still accounts for more than 60 percent of the nation's total power installations. Some 155 coal-fired power plants, or four per week, have received environmental permits in the first nine months of this year, according to Greenpeace East Asia.
As long as coal is seen as the cheapest form of energy, the fossil fuel may still remain an attractive option for regional governments eager to promote economic development.
And yet, there is every possibility that the move away from fossil fuels and toward a cleaner, greener future could already be anchored too deeply into the model China sees for itself.
China has realized "it needs to transit the economy towards more sustainable growth both from an economic perspective and energy environmental perspective," said Zach Friedman, a Beijing-based adviser to the Institute for Industrial Productivity, a non-profit organization that looks to address industrial energy efficiency to mitigate climate change.