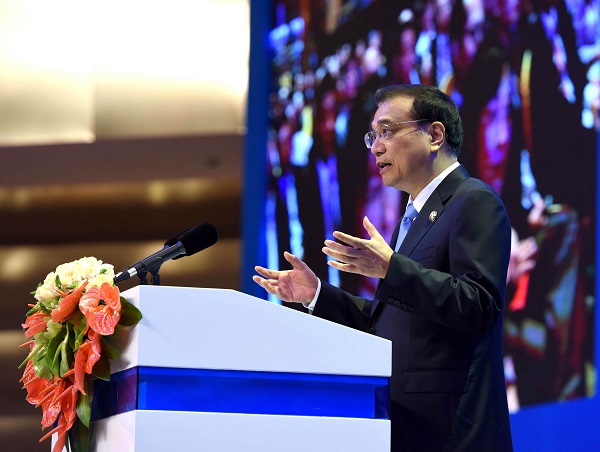 Chinese Premier Li Keqiang said Thursday that Asian countries should uphold peace and stability in the region and work together to maintain Asia as the key driver for the world economy.
"One important reason why Asia had achieved a rapid growth over the past decades is that the region kept a generally peaceful and stable environment," Li said while addressing the opening ceremony of the 2016 Boao Forum for Asia (BFA) in China's Hainan Province.
"Dialogue and cooperation is the golden key," the premier said.
He stressed that, inspired by history and experiences after the Second World War, Asian countries should be "good neighbors and friends and not be disturbed by minor frictions and contradictions, no matter what stage of development they are in".
China has territorial disputes with some of its Asian neighbours and has accused the US of fuelling disaffection against Beijing.
Earlier this month, China praised India's decision to refuse to patrol the South China Sea with the US.
The South China Sea, which official Chinese data indicates is 3.55 million square km, is one of the world's most strategically important waterways and is exceedingly rich with minerals.
China, which claims about 2 million square km of the maritime territory, has always maintained that "the situation in the South China Sea is stable. China and the countries of the [ASEAN] have kept a good-neighborly relationship".
But Vietnam and the Philippines dispute China's claim over the maritime region.
In November last year, China announced infrastructure loans totaling $10 billion to Southeast Asian countries through the ASEAN bloc.
China is also pushing for early conclusion of negotiations on the Regional Comprehensive Economic Partnership (RCEP). The China-led RCEP is a 16-nation trade bloc which includes the ASEAN plus China, India, Japan, South Korea, Australia and New Zealand.
On Thursday in Hainan, the Chinese Premier said recovery remains uneven in the emerging economies and sluggish in the developed ones.
Eight years have passed since the occurrence of the international financial crisis, but its profound impacts have not been eliminated, Li noted
"Domestically, China faces deep-rooted, structural problems and the economy continues to face downward pressures, especially as we try to restructure and upgrade," Li said.
China's leaders have set an economic growth target of 6.5 to 7 per cent for 2016.
Growth last year cooled to 6.9 per cent, the slowest in a quarter of a century.
This year's meeting in Boao, Hainan, from March 22 to 25, is themed "Asia's New Future: New Dynamics and New Vision."
More than 2,000 participants from over 60 countries and regions are attending the Boao forum. The event features discussions on the macro-economy, entrepreneurship, innovation, the internet and culture.