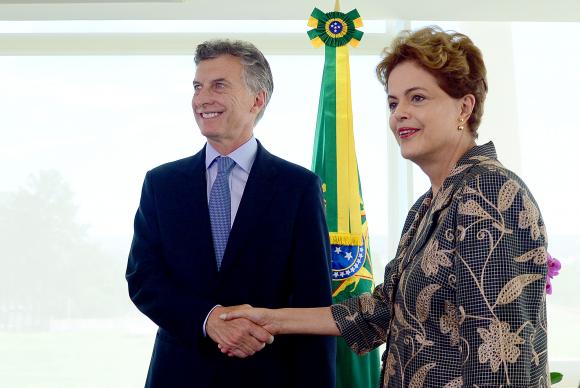 SÃO PAULO, BRAZIL – On Thursday, December 10th, Mauricio Macri will be sworn into office in Argentina, ending the twelve-year rule by the Kirchner family. Although Brazil's current administration had strong ties with the outgoing government, President-elect Macri seems to be signaling his new government also wants to build a strong relationship with their neighbor. 
Even before taking office, Macri visited Brazil's President Dilma Rousseff in Brasília and the Brazilian business community in São Paulo to talk about social and economic cooperation between the two nations.
In Brasília last week, Macri heard from President Rousseff that she was interested in recovering an agenda for Mercosur and that the political turbulence within the country would not hinder that objective. "For me it is clear that if Brazil improves, Argentina will improve, that is why we have to work together 24 hours per day no matter what," Macri told Brazilian reporters after meeting with Rousseff.
Argentina's President-elect also said that he expected Brazil to overcome its political problems and come out of it stronger. "It is a strong, solid country, which has shown in the last decades a systematic consolidation of its democratic system," he concluded. According to President Rousseff's press secretary the two leaders also talked about the crisis in Venezuela, a Mercosur partner.
Meeting with 150 business leaders in São Paulo, Macri heard from FIESP's (São Paulo's Industry Federation) president, Paulo Skaf that a priority for both countries was the recovery of each nation's credibility in the international community. "It is clear that to construct a central element of a society, which is credibility, one must have predictability," said Macri.
According to Skaf, Argentina's next President is likely to promote changes which will lead the South American country to a more liberal economy, with good administration and governance. Skaf noted during the meeting the large potential of trade between Argentina and Brazil and the need to strengthen the Mercosur alliance and increase international agreements.