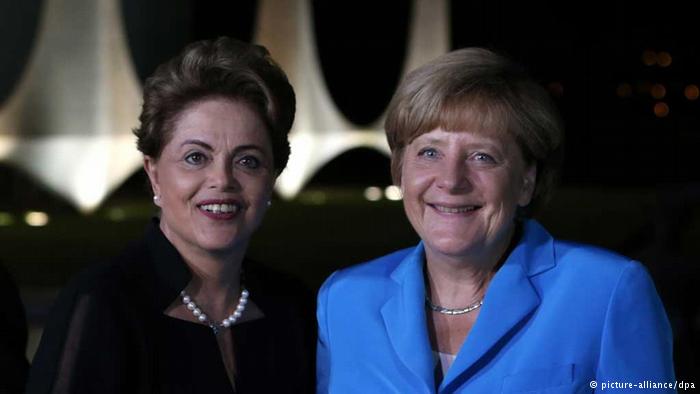 German Chancellor Angela Merkel has arrived in Brazil on a two-day visit. She and members of her cabinet are due to discuss climate change and Internet security with the government of President Dilma Rousseff.
Chancellor Merkel, Foreign Minister Frank-Walter Steinmeier and several other high-ranking German politicians have touched down in Brazil's capital, Brasilia.
The German delegation had set off on its 12-hour flight immediately after a Bundestag vote approving a new bailout package of Greece.
It's the first such bilateral "governmental consultation" meeting between the European and South American economic powerhouses.
During the brief visit, the representatives are due to discuss a myriad of issues including conservation, online security and economic agreements.
Germany and Brazil have centuries-old ties, with Steinmeier telling Brazilian newspaper "Folha de S. Paulo" on Wednesday – in response to a question about how Germany's government viewed the current tense situation in Brazil – that the first German immigrants arrived in Brazil about 200 years ago and the German companies set up there 150 years ago, therefore Germany took a long-term perspective when it came to bilateral relations.
"Brazil is and remains our most important partner in Latin America – entirely irrespective of current challenges in Brazilian domestic politics," he said.