Alstom, the French transportation equipment maker, rolled out the first set of railway coaches for the Kochi Metro project from its facility at Sri City in Andhra Pradesh. The three indigenously-designed and manufactured coaches were flagged off by Union Minister for Urban Development and Parliamentary Affairs, M. Venkaiah Naidu, on Saturday. The Kochi coach order is the second rolling stock contract for Alstom in the country, with Chennai metro the first. The Metropolis coaches, which were handed over to Kerala Minister for Power and Railways Aryadan Mohammed, will take at least 10 days to reach Kochi where they will be received by Kerala Chief Minister Oommen Chandy.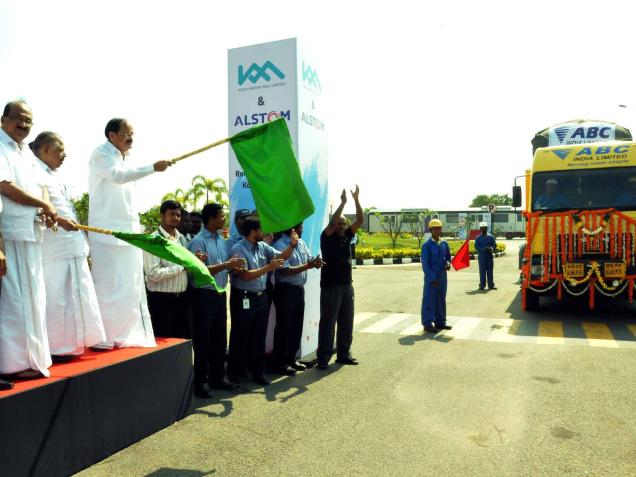 Trial runs
The civil works are at an advanced stage and trial runs expected to commence in the next few weeks.
"It is not only the fastest manufactured coach but also one of the most indigenised metro coaches to be manufactured in India with indigenisation level of nearly 70 per cent. It is not only a truly Make in India product but it is also a testimony to the fact that Indian skills, craftsmanship, technical prowess and entrepreneurship are one of the best in the world," Mr Naidu said.
Alstom Deputy Senior Vice President, Jean Francois Beaudoin, said it was truly a 'Make in India' product for them as it was conceptualised, designed, manufactured and tested by an Indian team.
The coaches manufactured by Alstom were unique in many ways as they were the most modern coaches to be manufactured in India, Kochi Metro Rail Managing Director, Elias George, said. They were way ahead of schedule and costs lower compared to other metro coaches. It had 70 per cent indigenisation level.
Delhi Metro Rail Corporation Managing Director, Mangu Singh, said that they are willing to help secondary cities to implement metro rail project at lower cost.
Mr. Naidu said: "We have received the report. We are yet to study it to find out if they were feasible for some cities."