Allies of Brazil's Lower House Speaker Eduardo Cunha (PMDB-RJ) met members of the opposition parties this week proposing to open impeachment proceedings against President Dilma Rousseff in exchange for helping him keep his job.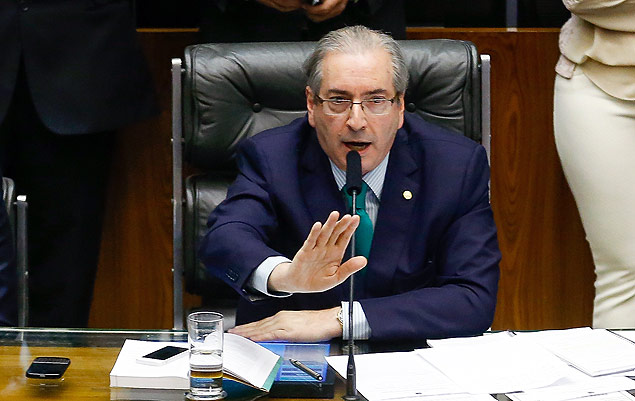 Folha has confirmed the information with five members of the opposition who said the proposal was created after a meeting in Sao Paulo on Monday (23) with lawmakers Paulo Pereira da Silva (SD-SP) and Rodrigo Maia (DEM-RJ), two of Cunha's main allies.
According to them, the opposition will vote in the Ethics Committee against Cunha's removal, a decision that will be taken next week. Cunha will then authorize impeachment proceedings against Rousseff and will also give up the command of the Lower House to finish his term.
Folha has learnt that the main opposition parties have assessed that at this point it is practically impossible to summarily archive the case against Cunha, but if it is decided he should be removed from office there could be chances that he is saved in the final vote scheduled for March or April 2016.
Since suspicions of his involvement in the Petrobras scandal surfaced, Cunha has been trying an agreement with the government and the opposition to keep his position. Recently, he has leaned on the government's side and in exchange the Workers' Party is helping him to delay his case in the Ethics Committee. As a result, the opposition has broken ties with him.
Rodrigo Maia said he is not aware about the strategy and denied that he has treated the subject with Paulinho da Força. "This subject was not discussed with me and I did not discuss it with him."
OTHER SIDE
Cunha denied that he has discussed a deal with allies or the opposition to start impeachment proceedings against Rousseff in exchange for keeping his job. He stressed that he has no intention, "in no event", to resign the office.
"I am not in any agreement and I did not discuss any deal with anyone. No one has spoken with me nor did I authorize anyone to speak on my behalf about anything. If that's true, they spread a lie, "he said.
Asked by this newspaper, Paulinho denied having talked with Maia on the topic. "It's nonsense. I do defend the impeachment, but I didn't talk to him about it, "he said.