China and Russia are laying the foundations for massive economic and technological cooperation. While Russia is under political pressure from the West over the Ukraine crisis, it needs investment and a close ally in the East. For China, it's an opportunity to tap into the Russian market. As Chinese president Xi Jinping and Russian President Vladimir Putin envision a close bilateral relationship, the two nations are now busying themselves with putting this vision into action with trade fairs, business deals and people-to-people exchanges.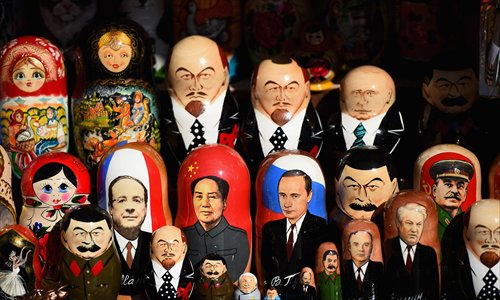 Russian Prime Minister Dmitry Medvedev is used to helping Russia navigate its development with his hands on the levers of power, but on July 8th, in an exhibition hall in the Russian city of Yekaterinburg, he instead had his hands on the controls of a model of one of China's high speed trains. The technology behind the trains, like the Russia-China relationship, is rapidly developing.
Helping to develop these links and a new international order at the same time that Medvedev was playing at being a train driver, Chinese President Xi Jinping headed to the Russian city of Ufa for the back to back summits of the Shanghai Cooperation Organization and of the BRICS nations – clubs of which both China and Russia are members.
The Russian Prime Minister was attending the sixth annual Russian International Industrial Trade Fair, known as INNOPROM, which was also attended by 150 Chinese businesses. China was also the official "partner country" at INNOPROM, the first time this status has been conferred on any nation.
Speaking at the INNOPROM opening ceremony, Chinese Vice Premier Wang Yang and Russian Deputy Prime Minister Dmitry Rogozin spoke highly of the two countries' ties, with both emphasizing the opportunities that they could offer each other and praising their growing closeness.
These sentiments were echoed by Xi's comments to Russian President Vladimir Putin in Ufa. He stressed that the two countries' economies can complement each other to the benefit of Eurasia as a whole and that they should push forward their economic cooperation, the building of bilateral and multilateral dialogue platforms and expand people-to-people exchanges.
Looking for deals
Chinese and Russian delegates were offered a good chance to engage in people-to-people exchanges while mingling on the floor of the INNOPROM fair.
Indeed, there were so many conversations to be had that business and technological leaders from both countries had to schedule their day down to the individual minute to ensure that they could discuss all the ongoing and planned joint projects on the table.
"Just a few years ago I had a hard time persuading Chinese and Russian businessmen and experts just to meet each other. Now, everybody is fully prepared to talk about projects and put them into action," said Gao Xin, project manager of the Russian-Chinese Culture and Education Development Foundation, which has branches in Beijing and Moscow.
One of the key projects being discussed at the fair by China Rail Group officials and their Russian counterparts was the proposed High Speed Europe Asia Moscow-Beijing Rail Corridor, which would link the two capitals.
Many Russian visitors to China are impressed by the high speed railways that run across the country. In May, China Railway signed a contract with Russia to plan and design a nearly 800 kilometer high-speed rail connection between Moscow and the Russian city of Kazan. It is hoped that the train will have a top speed of 400 kilometers per hour, which would make it the world's fastest train. After its completion, it would cut the 14-hour rail journey down to just 3.5 hours.
While railway cooperation is moving full speed ahead, provincial delegations from Heilongjiang Province, the Inner Mongolia Autonomous Region and Liaoning Province were working quickly, negotiating hundreds of projects at the fair. A businessman from North China signed a deal on a technology transfer immediately after seeing a presentation from a Russian biotechnology firm.
Chinese firms working in sectors such as heavy industry, vehicle manufacturing and shipbuilding have brought their advantages to Russia. At the same time, more and more Russian enterprises working in mechanical engineering, automation, biotechnology and optics have signed cooperation agreements with Chinese firms and have started to research the market with an eye on a new generation of Chinese clients.
Given its geographical proximity, China is in a unique position to develop closer links with Russia at a time when its relations with many European countries are becoming increasingly frosty, with NATO upping its military presence in Russia's former sphere of influence in Eastern Europe.
"In short, China needs a stable supply of natural resources and new markets, while Russia needs money. In May, China and Russia signed 32 contracts worth $25 billion, which provides a huge impetus for both nations. China needs new markets to expand into and Russia gains funding to invest in infrastructure. It represents great progress for both nations. Realizing the economic and strategic benefits of cooperation with China, Russia has turned its focus to the East. As bordering nations, Chinese companies such as China Rail and Huawei are eager to develop Russian markets. The two nations' relations enhance regional integration and certainly will be a beneficial factor in regional security," said Lu Nanquan, professor at Chinese Academy of Social Sciences.
This cooperation has come at a crucial time for Russia, as it faces political pressure from the West over the Ukraine crisis.
"The political and economic sanctions are having a huge impact of the financing of Russian enterprises. And the decline of international oil prices has caused problems in the Russian economy. Russian high speed rail and other Russian infrastructure projects need technology and financing from China," Zuo Fengrong, professor of international politics at the Party School of the Communist Party of China's Central Committee, told the Global Times. She added that investment alone cannot build comprehensive ties and that grass-roots trade and cultural exchanges are also necessary.
View from the street
For the last three decades, Yabao Road in Beijing has been the barometer of grass-roots Sino-Russian trade.
Located near the city's second ring road, the street is lined with shops with Russian names and Russian-speaking Chinese hawkers trying to lure foreigners into their shops to inspect their wares. However, the street has been quieter than usual recently, with fewer cargo trucks and trolleys shuttling up and down the "Russian quarter" street than there were a year ago.
Many of the shops in this area sell leather clothing to Russian traders looking for affordable winter clothes for their famously bitter winters. But their businesses have suffered of late.
"The financial crisis in Russia, the Ukraine crisis and the devaluation of the ruble has made me extremely nervous. Life isn't easy any more. Many Russian distributors don't come here anymore," Xu said.
The financial crisis in Russia means fewer Russians can afford to visit China, even for business reasons. Almost a third of the areas' shopping malls were empty on the day the Global Times visited.
While many Yabao Road merchants blame the financial crisis in Russia for their declining business, their real enemy might be the Internet.
China's online shopping giants Alibaba and JD.com have both set up services in Russia, making it easier for Chinese companies to reach Russian consumers. According to an Ernst & Young survey conducted in May, 91 percent of large Chinese companies think the Russian market is attractive, with 70 percent of them considering making investments in the country in the next five years.
"Economic issues must be solved through economic means," Zuo said. "The top leaders of both nations have set up excellent political relations, it is time for economic and technology leaders to catch up with caution and professionalism."
Uneasy friends
The two vast countries' relations have not always been so warm however.
After the death of Stalin in 1953 and Nikita Khrushchev's "secret speech" in which he denounced the personality cult around Stalin – worrying then Chinese leader Mao Zedong – relations between the Soviet Union and China deteriorated, with a series of mutual denunciations in 1963. Tensions culminated in a series of border clashes in 1969 and fears of an all-out war.
While war between the two nations seems highly unlikely today, there is still some lingering mutual mistrust.
According to The Moscow Times, news that Russia's Zabaikalsky region planned to grant 115,000 hectares of agricultural land to the Chinese company Hua'e Xingbang under a 49-year lease stirred up anxiety in Russia. A survey conducted by the Russian Rosbalt news agency showed that 50.5 percent of Russian respondents feared such a deal would "provide fertile ground for China's colonization and then annexation of Siberia, and for a major war."
However, these misconceptions and suspicions are being broken down, albeit slowly, by the increasing number of Chinese and Russians traveling to and studying in each other's countries.
Roman, a 22-year-old student, sits in a coffee shop playing with his iPhone near Beijing Language and Culture University. Like most Russian students in China, he prefers to speak with locals in Chinese rather than in English.
With bilateral ties booming, Roman is very clear about his post-graduation plans. "I will work in Beijing or Hong Kong. More young Russians are studying Chinese now. It is much easier to get a job here," he told the Global Times.
Roman is one of the 15,000 Russian students studying in China. While there are 25,000 Chinese students studying in Russia, this is less than a tenth of the number of Chinese choosing to go to US universities, according to an official Chinese education report.
"A lack of understanding about Russia is the main reason parents don't want to send our kids to study there," said Yang Tao, education director of the Russian-Chinese Culture and Education Development Foundation. "Chinese parents don't know Russia has one of the world's top literacy rates and has several of the world's top universities, plus relatively cheap tuition and expenses."
Studying in Russia costs around 80,000 yuan ($12,884) per year per student, compared to around 400,000 yuan in the US.
To narrow this gap, 2015 is "Youth Exchange Year," with many events being held all around both countries, and the two governments have set themselves the goal of having 100,000 students studying in the other's colleges by 2020.
Many of the Chinese students who have studied in Russia disagree with media descriptions of Russia as a nation full of people that "like fighting."
"The old Russian ladies always take care of us. Russians enjoy ballet and music. They might seem to be arrogant but in fact they are just proud of themselves," said Yan Tong, who studied in Russia for eight years.