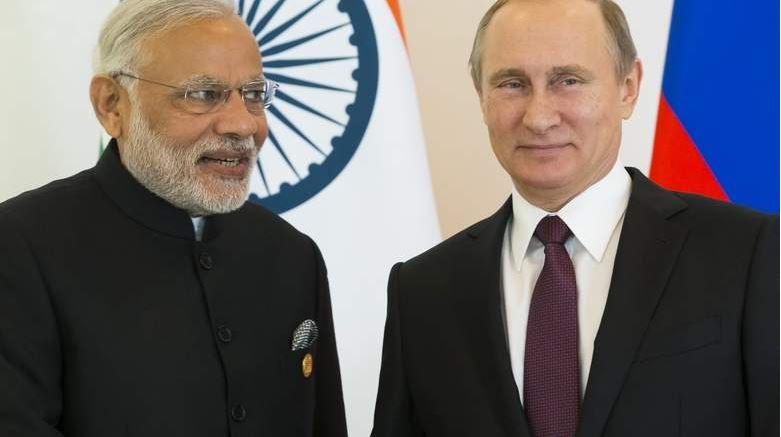 After Paris was attacked in a terrorist outrage on Friday, November 13, with the highest number of casualties the city has seen since World War II, the focus at the G-20 summit in Antalya was squarely on terrorism and how to tackle the menace of the 'Islamic state.'
The Indian and Russian leadership spoke a similar language. While Indian Prime Minister Narendra Modi said the G-20 should prepare a comprehensive global strategy to put an end to the finance, supply and communications channels that terrorists use, and tighten the Financial Action Task Force (FATF) against terrorism to cut off their sources of funds, Russian President Vladimir Putin sought an end to financing of terrorist groups.
A total of 40 countries, President Putin said, were financing terrorist groups, including the Islamic State. Several of those countries, he said, are part of the G-20. His reference was to Saudi Arabia, long suspected to be the primary funders of Sunni terrorist groups like Islamic State in Iraq and Syria (ISIS), Al-Qaeda and even the Taliban, among others. Hosts Turkey have also been funding and arming opponents of Syrian President Bashar al-Assad.
"We have all seen the horror that took place in Paris recently," said President Putin. "Russia is always in favour of joining efforts to deal effectively with the terrorist threat," he said, adding, "it is necessary to act in strict accordance with the United Nations."
Ajai Sahni, a leading counter-terrorism analyst who heads the Institute of Conflict Management in India, said Russia was the one country which had its priorities correct. "The primary problem affecting us all is that of terrorism. The Russians have gone after the source of that terrorism in Syria, Islamic State," he said. "Others have dithered on changing regimes and confused the issue," he said, allowing IS to become such a behemoth.
Gopalaswamy Parthasarathy, a former Indian Ambassador and leading analyst said, "first of all, this business of imposing regime change must stop. That is not the priority now. Political changes can be discussed around a table. With terrorists, there is no negotation," he said, accepting the need for all countries to unitedly work to bring terrorism to a stop. India needs to firm up its own stance in support of coordinated action to wipe out IS.
India's Home Ministry has issued an advisory placing its states and capital on high alert against threats from ISIS and will maintain "highest level of vigil."
Addressing leaders of the BRICS countries in Antalya ahead of the G-20 summit, Prime Minister Modi said the flow of arms and explosives to terrorist groups must stop and a special international legal regime must be created to disrupt terrorist activities. He said that countries must cooperate to prevent the use of cyber networks by terrorist groups.
The Indian PM also sought the early adoption of the Comprehensive Convention on International Terrorism (CCIT), which India introduced in the United Nations in 1996. Most P-5 countries, including Russia support its adoption, but the reason the CCIT has not been adopted in close to 20 years is because there is no universal agreement on the definition of terrorism!
"We are meeting in the tragic shadow of dreadful acts of terrorism, united by a sense of shock, pain and outrage," Modi said. "It (terrorism) not only takes a tragic toll of lives, it also extracts a huge economic cost and threatens our way of life, combating it must be a major priority for G20," he added.
Chinese President Xi Jinping said, "We will work more closely with the international community to reject and fight terrorism in all its manifestations," urging coordinated action.
After talks in Vienna last weekend reaffirmed a framework for a political solution in Syria, U.S. President Barack Obama and British Prime Minister David Cameron met with President Putin on the sidelines of the G20 summit in Turkey and discussed a more coordinated approach to military action against Islamic State. The severity of the Paris outrage appears to have instilled a new sense of urgency into the proceedings.
Analysts said the series of recent terrorist attacks, from the coordinated strikes in Paris, the killing of 200 Syrian children, shooting down a Russian civil airline over Sharm El- Sheikh, suicide attacks in Beirut and the bombings in Istanbul, were because ISIS and other terrorist groups in Syria were threatened, particularly by the sustained Russian aerial attacks on its positions.
According to Waiel Awwad, a Syrian journalist in India, "the Russian air force started the campaign and destroyed 80% of the ISIS ammunition within a month. Over 3000 terrorists were killed, while hundreds fled the Raqqa province of Syria, the strong hold of Daesh."
"No one wants Russia to emerge as a winner and expose the duplicity of the West in its fight against terrorism, which has achieved nothing but regime changes," Awwad said.