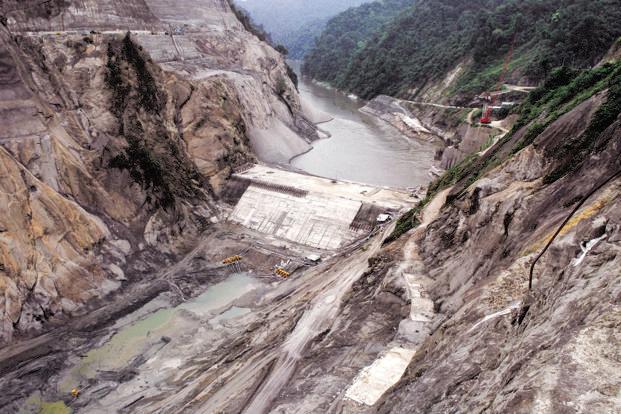 The power ministry has set up a 10-member panel chaired by Ashwin B. Pandya, former chairman of the Central Water Commission, to advise on framing a new hydropower policy that will help turn around stalled projects and attract fresh investments into the sector.
After giving a major policy boost to renewable energy, especially solar power projects, the Narendra Modi government wants to fix the glitches in the hydropower sector, where many projects are delayed and facing cost overruns.
The committee, which has representatives from the Central Electricity Authority (CEA), Central Electricity Regulatory Commission (CERC), National Hydroelectric Power Corp. (NHPC), Satluj Jal Vidyut Nigam Ltd, Power Finance Corp., Rural Electrification Corp. and the power ministry, has been asked to give its report by the first week of April on how to expedite existing projects and attract new investments, said an official aware of the development.
The committee has to suggest policy measures on technical, financial, environmental and commercial aspects of the hydropower sector.
Delays in environment and forest clearances, inter-state water-sharing disputes, technical and geological uncertainties and difficulties in securing financing due to long gestation periods have led to delays in more than a dozen hydroelectric power projects.
"With the Electricity Act of 2003 allowing power trading through exchanges and open access (where a power producer could choose a power customer) to promote competition in the sector, many private players entered the hydropower-generation business. However, the poor financial health of power distribution utilities has adversely affected the market for these hydropower-generation companies," said NHPC chairman and managing director K.M. Singh.
Singh told reporters on 10 February that many state government agencies that are executing projects jointly with private players, have approached NHPC to take over their projects. These include Jindal Power's three projects in Arunachal Pradesh, one project of GMR Infrastructure Ltd in Himachal Pradesh and a few others in Andhra Pradesh and Sikkim, he said.
The power ministry wants to make this segment of the industry more attractive to investors as it would help in achieving the country's commitment at the Paris climate conference to cut carbon emissions by 30-35% by 2030. At present, hydropower accounts for only 15% of the country's 284 gigawatt capacity, compared to fossil fuel-based capacity accounting for 70%.
To make this sector more attractive, the Modi government recently announced its decision to delay the award of hydropower projects on the basis of competitive bidding of power tariff until 2022.
Instead, until then, projects will be nominated to investors who will be able to charge a tariff based on the cost of production.
"The government should ensure low-cost long-tenure institutional funds for hydropower projects, matching the cost of funds that public sector firms enjoy. Also, considering the importance of hydropower projects, water should be included in the concurrent list of the Constitution, not in the state list as is the case now," said an industry executive, who asked not to be named.