The Indian government has decided to remove roadblocks in the path of the wind and hydropower sectors to fuel growth after focusing on solar energy for the past two years, said Piyush Goyal, minister for coal, power and renewable energy.
"After 32 years of starting the renewable energy programme, India had 2,400 megwatts (MW) solar; therefore a particular thrust was given… the solar mission was scaled up by five times. We reset the target to 100,000MW by 2020-22. Using one of the most transparent systems of procurement that one could devise, we have been able to drive down prices by over 40% in barely 18 months. This year has been dedicated to wind and hydro," Goyal said at Mint's Annual Energy Conclave 2016–Securing India's Future on Wednesday.
He stressed that each renewable energy source, be it wind, solar etc., has an important place in India's energy mix. He also pointed out that he is trying to sort out issues plaguing the hydro sector and once that is done, he will be able to attract more investments in the hydro sector.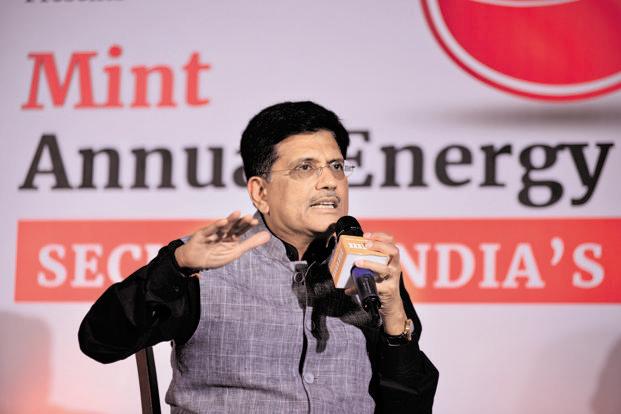 India has a total installed power capacity of 306,358MW of which thermal (coal, gas, diesel) accounts for 213,228MW while nuclear accounts for 5,780MW, hydropower for 43,112MW and renewable power (solar, wind, small hydro and biomass) accounts for 44,236MW, according to government records as of 31 September.
While India has made huge strides in the solar sector in the last two years, wind and hydro sectors have not got the required push.
On the concept of 'one nation, one grid and one power', the power minister said that the government is "trying to create a robust transmission network across the country where power can seamlessly flow all times of the day".
India has 237 million people with no access to electricity, according to the International Energy Agency's World Energy Outlook 2015 report. To provide electricity to all, the government is trying to boost production using coal as well as renewable sources.
By 2030, India plans to have around 850 gigawatts (GW) of power from coal and renewables. Interestingly, the government is planning to achieve 40% of its cumulative electric power of around 350GW installed capacity from renewable power. But even then, coal will remain an important component in India's energy basket.
"We are working with academics and research labs, to look at better and more efficient ways of using coal … In the future, we will not permit anything less than super critical plants so that the pollution levels are kept at the barest minimum. I have stopped all repair and modernization of older plants. I would hope we can phase out over 25-30 and 35-year-old plants so that more new and efficient plants come into play," Goyal said.
Goyal said he is "toying with idea of UMPPs (ultra mega power plant) based on coal linkage".
"I am trying to build around a document and an ecosystem where we could even have UMPPs based on coal linkage where I assure (that) the bidder will get coal from the mine of Coal India or any other company and set up a new venture," he added.
The minister also pointed towards the government's successful LED programme, highlighting that from 600,000 LED bulbs per year, EESL (Energy Efficiency Services Limited), a government of India company, is now selling 600,000 per day.
India's target is to replace 770 million bulbs by 2019.
Experts including former bureaucrats and industry representatives, at the energy conclave, supported the government's massive push for renewable sector but flagged several areas of concern such as transmission issues, quality of solar panels, solar rooftop and financial risks associated with solar power.
"We should make merry when the sun is shining. Impediments will come and our job is to take care of them … with government," said Sunil Jain, chief executive officer of Hero Future Energies (HFE), a renewable energy company.