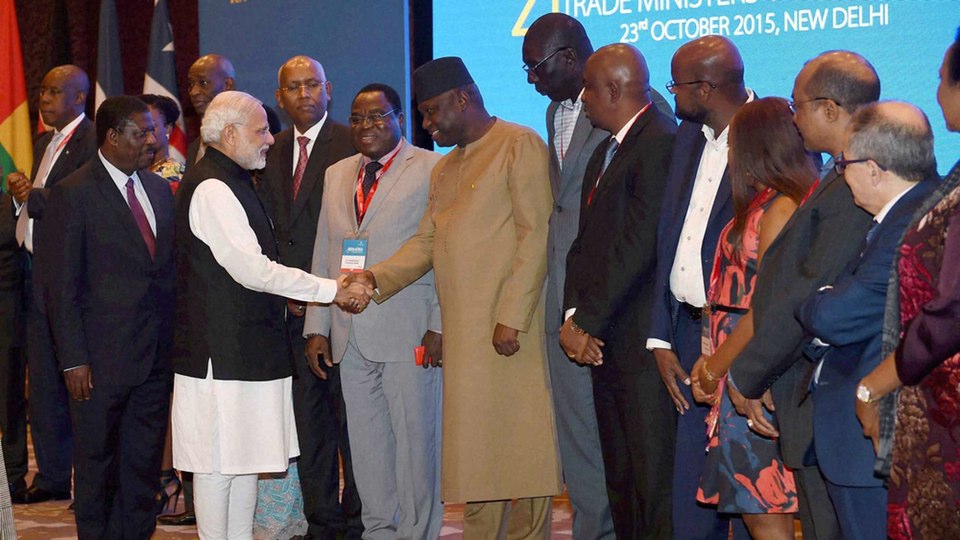 New Delhi: African leaders on Wednesday unveiled a wishlist of projects that they wanted Indian assistance with, including the setting up of a science and technology park, an industrial park, the continued availability of Indian generic drugs at affordable prices, more soft loans on concessional terms, more scholarships for African students and infrastructure development.
India, on its part, sought deeper collaboration from Africa in the energy sector—oil, natural gas as well as uranium—and appealed for African support on issues such as UN Security Council reforms and terrorism. The two sides also discussed the prospects of setting up a fertilizer unit in Ghana even as countries like Chad and Equatorial Guinea expressed desire to open diplomatic missions here.
The airing of expectations of both sides came during the bilateral meetings Prime Minister Narendra Modi had with visiting heads of state and government of African nations who are in New Delhi to participate in the third India-Africa Summit on Thursday.
The summit has been billed as the biggest gathering of foreign dignitaries in New Delhi since the 1983 Non-Aligned Summit. Previous India-Africa summits—the first in New Delhi in 2008 and the second in Addis Ababa in 2011—were smaller events, with India and representatives of select African countries participating. The forum is aimed at deepening bonds between India and Africa against the backdrop of growing influence of countries like China,
Foreign minister Sushma Swaraj, who addressed an India-Africa Business Forum in New Delhi on Wednesday, called on Indian businesses to increase trade with Africa and not "cede" space to "third parties"—a reference to countries like China whose bilateral trade with Africa topped $200 billion in 2014-15, according to various estimates. In contrast, India's combined bilateral trade with African countries was $72 billion.
Those who met Modi on Wednesday included the presidents of Zimbabwe Robert Mugabe, Ghana's John Dramani Mahama, Nigeria's Muhammadu Buhari, Kenya's Uhuru Kenyatta, Uganda's Yoweri Kaguta Museveni, South Africa's Jacob Zuma, Gabon's Ali Bongo Ondimba, vice-president of Botswana Mokgweetsi Eric Keabetswe Masisi and the king of Swaziland Mswati III.
"The broad elements (of the discussions) were how India and Africa can help each other, particularly how Africa can benefit from capacity-building using Indian expertise," Indian foreign ministry spokesman Vikas Swarup said. "PM Modi used an interesting phrase…he said India and Africa are made for each other," Swarup said, referring to the complementarities of the two sides.
Veteran African leader Mugabe, on a visit to India after a gap of almost two decades, sought Indian aid in human resources development and discussed ways to improve trade with India. Bilateral trade currently is about $1 million dollars.
Ghana's Mahama sought India's help in human resource development, information technology and railways, Tanmay Lal, joint secretary-east and south Africa, told reporters. Both sides discussed the feasibility of setting up a fertiliser project.
"The Ghanaian side assured us of the viability of the project and that they had recently discovered two huge reserves of natural gas and as and when they come on stream in a couple of years, gas at a cheaper rate will be made available to that project," Lal said.
With Nigeria, India's largest trade partner in Africa, talks centred on how to increase cooperation in the energy sector, Lal said. "During their discussion on cooperation between India and Nigeria in the oil sector, the Nigerian President informed the prime minister that India had become its largest importer of oil, replacing the US," Lal said.
Defence cooperation was a common point of discussion between India and Nigeria as well as Uganda, Lal said. He recalled that Nigerian President Buhari had received military training in India years ago. With Uganda, along with talks on improving Uganda's dairy sector, there were talks on defence cooperation, Lal said.
Swarup clarified that this cooperation was for now in the area of India training African military officers.
The issue of Indian generic drugs being available at affordable prices was discussed with Kenyan President Kenyatta, Lal said. Africa has been a large market for Indian drugs available at a fraction of the price of those manufactured by western pharmaceutical companies. But with India looking to come up with a new intellectual property rights policy that could see it aligned more with western standards, there are apprehensions that Indian generic drugs will not be as easily available.
With Niger, India discussed sourcing uranium for its nuclear power plants. "There was also a discussion on how to attract Indian investment in the oil sector," Lal said.
Meanwhile, in her address to Indian industry earlier in the day, Swaraj urged Indian companies to invest in Africa, as it offered resources and growth opportunities. "The day you combine your strength with their needs, that would be a win-win for both…their needs would be fulfilled and you would make money," she said at the India-Africa Business Forum.
"Indian investors are aware of the potential of Africa with large land mass, rich natural resources and demand… We hope various countries in Africa will take steps to attract such investments from India, particularly from manufacturing and processing activities," Swaraj said.