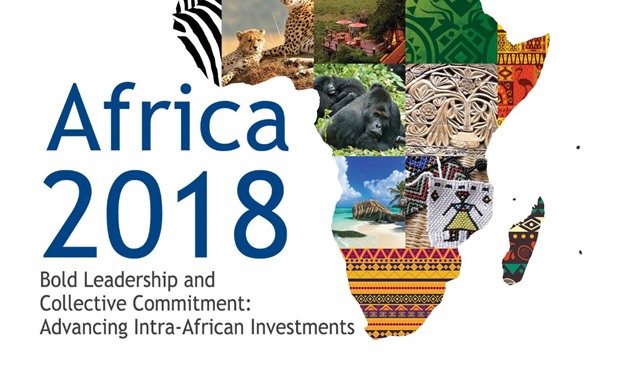 Africa 2018 Forum logo – Photo courtesy of Business for Africa Forum
African Development Bank President Akinwumi Adesina has saluted Egypt's strong macroeconomic performance, its improved ranking in the 'Doing Business Index,' and the success of major projects in which the Bank is supporting Egypt, lessons that can be learned for the development and the integration of the continent. Adesina was speaking during a session at the just-ended Africa 2018 Business Forum held in the Egyptian city of Sharm-el-Sheikh.
According to the Bank's latest Country Results Brief, Egypt has regained its position as first destination for foreign direct investment (FDI) in Africa. Over the past five years of prudent fiscal policy, it has seen a diversified economy, with services accounting for about half its gross domestic product (GDP), industry, 34% of GDP, and agriculture 12%.
"(We need) bold and innovative initiatives that realize the enormous possibilities of the continent.", Adesina said, adding that "we need to prepare, structure and de-risk opportunities to turn them onto investments.'
Adesina spoke as part of a Presidential Panel on "Bold Leadership and Collective Commitments" in which he joined the Heads of Afreximbank, the Arab Bank for Economic Development in Africa, the Asian Investment Infrastructure Bank, the European Bank for Reconstruction and Development, the European Investment Bank, and the International Finance Corporation, to deliberate on advancing intra-African investments together. The Bank leaders were in the presence of Egyptian President HE Abdel Fattah El Sisi.
Egypt is the Bank's second largest regional shareholder and third client in terms of cumulative historical approvals, making it the Bank's strong partner. Today, the Bank has a portfolio of 30 operations in Egypt, valued at US$2.9 billion.
Adesina highlighted key Bank interventions in Egypt that have provided essential support to the country's development. For example, energy sector interventions, including the Ain Soukhna and Suez power plants have contributed to overcoming Egypt's power shortage by adding 3,250 MW of new and efficient generation capacity that can meet the electricity demand of about 7.5 million households, and will facilitate power interconnection with neighboring countries.
The Bank's operations in 12 governorates, including Assiut and Domyat, have helped over 20 000 farmers to purchase essential inputs at the right time for crop and livestock production.
The Bank has also made a strong contribution to women through its pioneering Women's Economic Empowerment Project, through which $9 million has enabled women to benefit from 4,306 loans. Under the same programme more than 24,000 women have received training.
Participating at the roundtable 'Egypt – the Investment Gateway to Africa' hosted by Egyptian Prime Minister HE Moustafa Madbouly and with participation from about 80 CEOs, Adesina stressed the importance of partnerships to meet Africa's huge investment needs.
He cited the Bank's recently concluded Africa Investment Forum held in Johannesburg, South Africa, as an example of greater intra-African private sector collaboration. The Forum successfully convened key private and public stakeholders, and provided an unprecedented platform for effective dialogue to drive investments into the continent.
The value of boardroom projects tabled for discussion during the Forum stood at US$47 billion, while investment interest was secured for 49 projects worth US$38.7 billion.
The Bank President said the Sharm el Sheikh conference will advance greater regional integration and investment.
"Regional integration is essential to face international competition and to facilitate the creation of jobs for youth," Adesina said.
The Africa Forum in Sharm el Sheikh has emerged as a key platform for high level dialogue between Heads of State, senior Government officials and business leaders focusing on key strategic sectors. The 2018 Forum, which is the third in the series, focused on enhancing private sector cooperation in Africa to increase cross-border investments and trade.
The 2018 Forum, titled "Bold Leadership and Collective Commitment- Fast Tracking Intra-African Investments", also dedicated a day to Empowering Women, whose voices are critical for framing the African business agenda going forward.