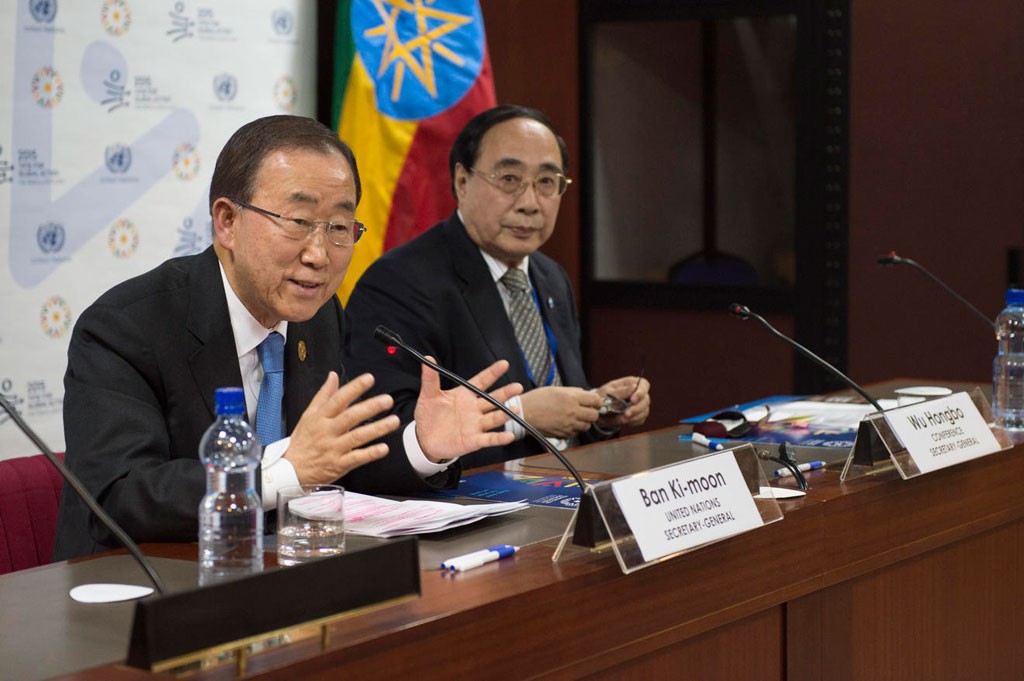 Secretary-General Ban Ki-moon today stressed that a successful outcome at the United Nations financing conference in Ethiopia is vital for the future sustainable development agenda and could shape international cooperation for years to come, as negotiations on the draft text entered its final stages.
"This Conference shows the way forward – with governments, international organizations, financial and trade institutions, business, and civil society all working together for sustainable development," Mr. Ban told reporters in Addis Ababa. "I am very encouraged by the strong momentum and ownership among all partners.
He also noted that several new initiatives and commitments have been announced this week, which are an important pillar of the outcome of the Third International Conference on Financing for Development. More such announcements will come today and tomorrow, as well as in the weeks and months ahead.
"Taken together, the results here in Addis Ababa can give us the foundation of a revitalized global partnership for sustainable development that should leave no one behind," Mr. Ban stated.
"I urge the negotiators to keep that goal in mind as they finish their work. I look forward to working with all partners to seize the opportunities of the months ahead and to build a world of prosperity and dignity for all."
The draft outcome document, which will be known as the Addis Ababa Action Agenda once adopted, presents an "ambitious financing framework" that includes concrete policy commitments in at least six crucial areas.
These include a new social compact for quality investment; a package for least developed countries, including a commitment to increase official development assistance; and a new Technology Facilitation Mechanism that aims to break new ground to help facilitate the development, transfer and dissemination of relevant technologies for the sustainable development goals.
The draft also calls for greater international cooperation in tax matters to stem the tide of illicit financial flows; mainstreams gender equality throughout the financing for development agenda; and makes clear that everyone's actions need to be underpinned by a strong commitment to protect and preserve the planet.
"A successful outcome is crucial for building trust and momentum towards the adoption of an ambitious post-2015 development agenda in New York in September and a universal agreement on climate change in December in Paris," said Mr. Ban.