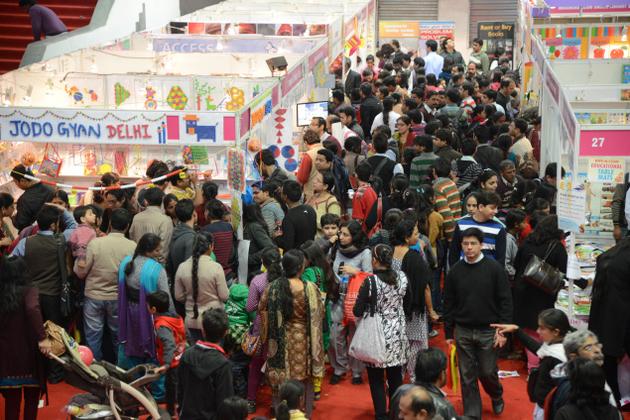 Keeping its tryst with book lovers, the 24th edition of New Delhi World Book Fair (NDWBF) has opened at Pragati Maidan in the national capital with China as the Guest of Honour country this year.
"We believe in Athithi Devo Bhavaa and in our tradition we worship our guests. We hope that the people from the Guest of Honour country, China will feel at home in India," Union Minister of Human Resource Development Smriti Zubin Irani said while inaugurating the Fair being held from January 9 to 17.
Referring to India-China relationship since ancient times, she said that there is a mention of Chinese silk dress in Arthashastra. She expressed the hope that both the countries would strengthen ties both on the cultural as well as knowledge front.
Ms Irani appreciated efforts undertaken by the National Book Trust (NBT) to bring out 16 new titles under the Navlekhan series and suggested publication of books in all the 22 major Indian languages. Children from various states, including Tamil Nadu, Kerala, Manipur and Assam, along with selected photographers would be sent as "Shodh Yatris" to countries like Sri Lanka, Malaysia, Thailand and Cambodia. Their memoirs will be published in the form of books.
NBT Chairman Baldeo Bhai Sharma said the Trust has come up with a new Navlekhan series for young writers under the age of 40 and has brought out 16 new titles. The theme pavilion will display books beginning from "Bhoj Patra" to e-books and also display ancient scripts.
Eminent Chinese author Liu Zhenyou, Chinese Ambassador Le Yucheng, and Mr Vinay Sheel Oberoi, Secretary, Department of Higher Education, also spoke on the occasion.
Later, Ms. Irani inaugurated the Theme Pavilion and the China pavilion at Pragati Maidan.
Organized by the National Book Trust, India in collaboration with the India Trade Promotion Organisation (ITPO), NDWBF has become a major calendar event in the publishing world.
From modest beginnings with just 200 participants at Windsor Place in 1972 and moving on to Pragati Maidan for the second edition with 266 participants, it has then on registered steady growth with number of participants breaching the 1000 mark in 1998. The 18th edition of the fair in 2008 saw the highest number of participants at 1343.
In recent years, Chinese government has attached great importance to China Country of Honour Programs at the international book fairs so as to further strengthen the exchanges and cooperation with other countries. Following the Country of Honour presentations at several international book fairs, including Frankfurt Book Fair (2009), London Book Fair (2012) and Book Expo America (2015), China has been invited as the Guest of Honour Country at NDWBF 2016.
Rich volumes of Chinese books, professional forums and seminars, cultural exhibitions, and literature salons will be held to promote literary and cultural ties between India and China as well as the bilateral people-to-people exchanges.