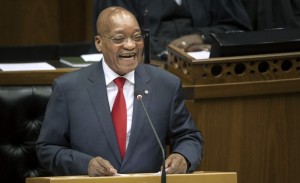 More than 200 members of Parliament decided that the president urgently needed a salary raise. It will be backdated to April.
Despite fierce objections from opposition parties and suggestions of a reduction, Parliament on Thursday approved a salary increase for President Jacob Zuma.
The increase was approved when more than 200 Members of Parliament voted for the president to receive about R130 000 raise, bringing his annual salary to just over R2.7-million.
Objecting to the motion tabled by African National Congress chief whip Stone Sizani, the Economic Freedom Fighters said the country was already paying for too much when it came to the president.
EFF chief whip Floyd Shivambu strongly opposed the motion. "The EFF rejects with contempt the request by Zuma to receive a salary increase. We pay for everything Zuma does. We feed him, we dress him, we pay his legal fees. We pay for his legal fees. We even pay for his cattle kraal. We pay for his wives."
At the beginning of the year, a 5% increase for all office bearers, including the president, his deputy, ministers and deputy ministers was recommended by the Independent Commission on the Remuneration of Public Office and it was brought to the National Assembly on Thursday for approval.
Referring to the president as "this man", Shivambu said government could not increase the salaries of public servants, who had to contend with petrol price increases, and yet Zuma could come and ask the House for more money.
Nkandla
The Democratic Alliance also strongly objected to the increase, saying the president still had to account for benefitting from the security upgrades at his Nkandla homestead.
The Freedom Front Plus, in rejecting the ANC's motion, instead suggested an amendment, that Zuma's salary be reduced to R1. This comes barely a week after police minister Nathi Nhleko said the president did not owe a cent after the R216-million upgrades to his home.
No amount of protests from opposition, however, could sway the ANC MPs, who used their majority to vote for the increase. The increase will be backdated to April 1.
Welcoming the increase, the office of the ANC chief whip said since 2010, the President has never approved or accepted the Commission's recommended increase that is above the prevailing inflation rate.
"In 2013 when the President refused to accept any increase, the MPs of opposition parties who today indulged in melodramatic posturing in opposition against the President's recommended increase were happy to pocket the increase instead of following his lead. Further, the parties opposing the President's recommended 5% increase have themselves accepted it for the same financial year. The cheap opportunism and rank hypocrisy of these parties is shameful."