The Washington Post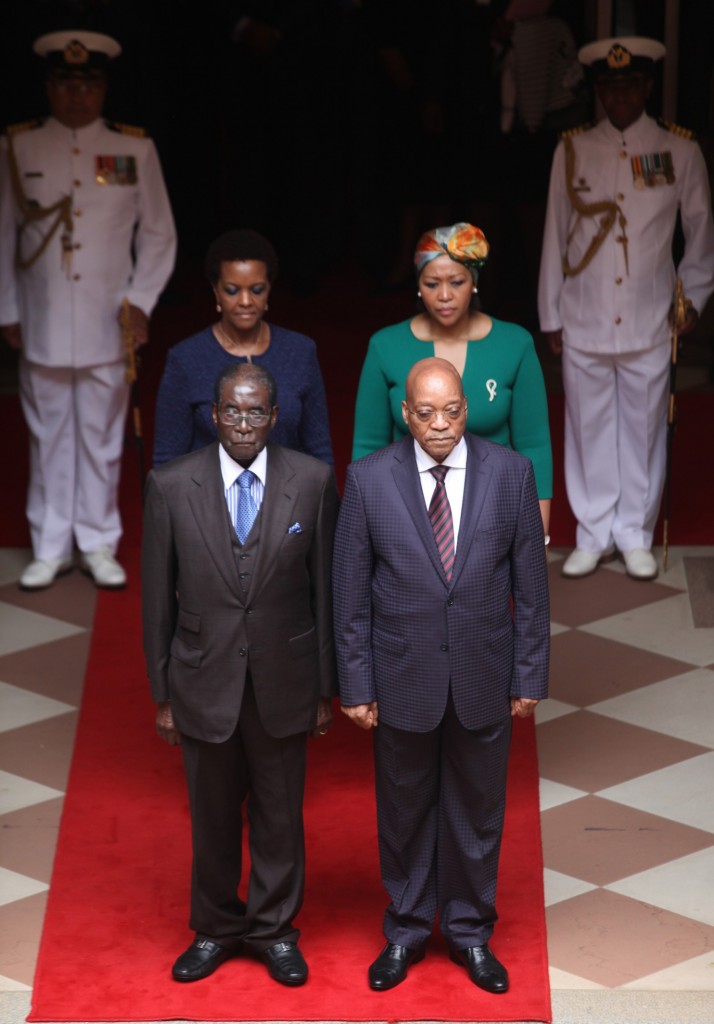 Zimbabwean President, Robert Mugabe, left, and his South African counterpart, Jacob Zuma, right, arrive for a welcoming ceremony at the government's Union Building in Pretoria, South Africa, Wednesday, April. 8, 2015. Mugabe is on a two-day state visit to the country. At rear are their wives, Grace Mugabe, left, and Thobeka Zuma. (Denis Farrell/Associated Press)
PRETORIA, South Africa — On his first state visit to South Africa since 1994, Zimbabwe's President Robert Mugabe on Wednesday pleaded for investment into his country's struggling economy, but insisted that Zimbabweans must have a controlling stake in all companies.South African President Jacob Zuma held Mugabe's hand and called him "my dear brother" when welcoming the Zimbabwean leader to the capital Pretoria. The visit was aimed at boosting trade between the two southern African nations. Some Zimbabwean press said that Mugabe, 91, is carrying his "begging bowl."

Zimbabwean Finance Minister Patrick Chinamasa said the Zimbabwean delegation had not come to Pretoria to borrow money, but did not rule out the possibility of a loan.

Cabinet ministers from each country signed agreements to boost trade even as Mugabe defended his government's indigenization policy, which demands that foreign companies cede 51 percent of their shares to black Zimbabweans. The policy is widely blamed for frightening away foreign investors.

"You are leaving holes in my country," he said of foreign investors, at a joint press conference with Zuma. "The God-given gold that I have in my country is much more beneficial and important. What does capital do?"

But indigenization would not be applied wholesale, with different sectors allowed to amend the law according to what they need, Chinamasa clarified afterward.

"Our indigenization law is not a one-size-fits all," Chinamasa told journalists.

In a meandering speech that touched on Libya after Muammar Gadhafi's fall, the power of the permanent members of the United Nations Security Council and the controversy surrounding memorials to colonial leader Cecil John Rhodes, Mugabe also thanked South Africa for housing a large number of exiled Zimbabweans.

"Our people have really offended your system by jumping the border," he said, adding that Zimbabwean officials would work with South Africa on improving border security. It is estimated that as many as 3 million Zimbabweans are now living in South Africa, many as illegal immigrants.

Copyright 2015 The Associated Press. All rights reserved. This material may not be published, broadcast, rewritten or redistributed.