/21/2014 @ 1:51下午
The FIFA World Cup soccer matches that kick off in Brazil next next month were supposed to be a boon to the economy. But in the months leading up to this worldwide event, Brazil's economy remains relatively lackluster.
Blame China and Europe, or previous policy missteps by Finance Minister Guido Mantega, but Brazil's growth rate keeps getting re-rated lower. On the economic front, the best data shows inflation growth is slowing, thanks primarily to a decline in food prices that saw a spike earlier this year due to weather-related issues.
Investors might have believed that the share price over at Brazilian beer empire Ambev would at least be beating the index this year because of FIFA. In anticipation for all that Brahma, Gatorade Gatorade and Guarana soccer fans would be consuming, Ambev should be doing better than its 0.68% fain in dollar terms year-to-date. The MSCI MSCI Brazil index is up 7.7%. Even over the last 12 months, Ambev's ADRs are barely keeping up with the index. In the local currency, Ambev's shares on the Bovespa are down more than 5% year-to-date and in the last 12 months.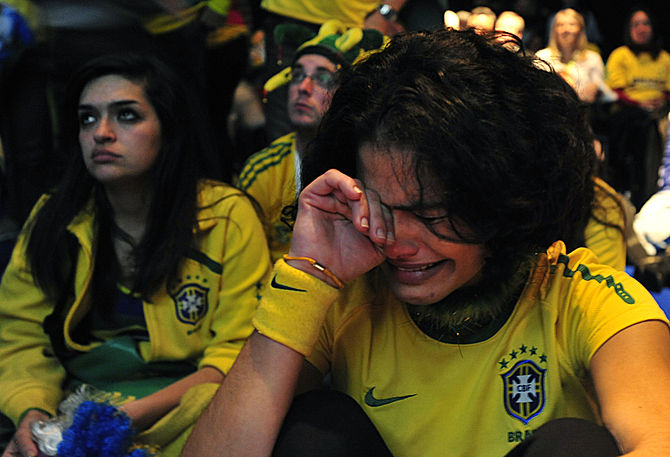 A Brazilian World Cup soccer fan laments the teams performance in South Africa four years ago. Investors lament the lack of a FIFA bounce in Brazilian equities. (Photo credit: Wikipedia)
For now, the market may like the fact that inflation is declining, so the Central Bank can stop raising interest rates. A decline in interest rates, in theory, is better for equities.
At the same time, Brazil's GDP is expected to come in under 2%. For a country that didn't suffer from a housing and derivatives bubble, Brazil's economy is taking its fair share of credit crisis punishment.
On Wednesday, the United Nations Department of Economic and Social Affairs said Brazil's GDP would come in around 1.7% this year, down from its previous estimate of 3%. Slower growth in Asia, and stubborn growth in Europe, were the main reasons given by the U.N. economists.
Within the BRICs, only Russia's economy will do worse than Brazil. And these guys are facing sanctions and the disdain of every politician in Washington and Brussels. At 1.7%, Brazil's GDP growth rate will be close to that of the E.U. and below the world average growth rate of 2.8%. The U.S. is seen expanding by 2.5%, also better than Brazil, and without the FIFA spotlight.
"Brazil's economy will continue to grow at a moderate rate this year, with weak corporate investments and government pressure on the budget," the U.N. Department of Economic and Social Affairs said.
Brazil's economy lost steam in the first quarter, growing 0.3% from the fourth quarter.
Next year, Brazil will be preparing for the 2016 Summer Olympic games in Rio de Janeiro. Does anyone think investors will jump in on Ambev or the iShares MSCI Brazil (EWZ) exchange traded fund any time soon? Predicting investor behavior requires a PhD in patience, and a whole lot of luck. But according to economists at the U.N., Brazil will growth 2.8% next year, not the 4.2% it forecast earlier in the year.  One again, Brazil will grow below the world average of 3.2%.  American investors may end up liking Brazil as much as they enjoy soccer, which isn't say a lot.