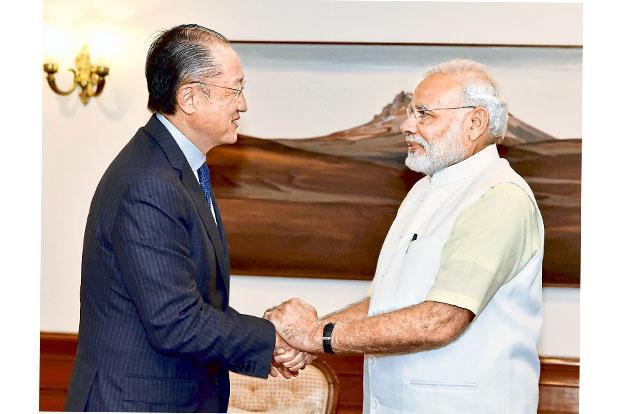 New Delhi: In a significant push for solar power, the World Bank on Thursday signed an agreement with the International Solar Alliance (ISA)—launched by Prime Minister Narendra Modi at the Paris climate summit last year—to mobilize $1 trillion in investments by 2030.
The World Bank will also lend more than $1 billion to support India's ambitious initiatives to expand solar energy generation, including a $625 million grid-connected rooftop solar programme.
"We signed an agreement with the ISA, consisting of 121 countries led by India, to collaborate on increasing solar energy use around the world, with the goal of mobilizing $1 trillion in investments by 2030. This agreement establishes the World Bank group as a financial partner for the alliance," World Bank president Jim Yong Kim said at the end of a two-day visit to India.
Finance minister Arun Jaitley and minister for power, coal, and new and renewable energy Piyush Goyal were also present at the signing of the agreement.
The World Bank president said he hoped the agreement would help mobilize the global movement toward a climate-friendly future.
"As part of the agreement, the (World) Bank Group will develop a roadmap to mobilize financing for development and deployment of affordable solar energy, and work with other multilateral development banks and financial institutions to develop financing instruments to support solar energy development," added Kim.
ISA was launched at the UN Climate Change Conference in Paris on 30 November last year by Modi and French President Francois Hollande. The alliance, headquartered in India, aims to bring together countries situated between the Tropics of Cancer and Capricorn which receive abundant sunshine for around 300 days a year.
Kim met both Modi and Jaitley during his two-day visit.
The multilateral lender will continue to support the Modi government's renewable energy push, he said.
"The prime minister understands the World Bank better than us and always pushes us to move faster and faster, keeping pace with him," said Kim, while applauding the Modi government for its Swachh Bharat Mission, which is also partly financed by the Bank.
"India's plans to virtually triple the share of renewable energy by 2030 will both transform the country's energy supply and have far-reaching global implications in the fight against climate change. Prime Minister Modi's personal commitment toward renewable energy, particularly solar, is the driving force behind these investments," Kim said.
The development of $200 million shared infrastructure for "Solar Parks Project under a public-private partnership model is also under preparation", said a statement issued by the World Bank, which pointed out that the $1 billion loan is the lender's largest solar project funding for any country.
Modi has been betting big on solar power since forming the government in May 2014. The National Democratic Alliance government has raised India's target of solar power from 20,000 megawatts (MW) to 100,000MW by 2022.
Experts welcomed the $1 billion loan from the World Bank to boost India's solar energy programme. "It is a positive move, but the exact details of the loan—like interest rates—are not clear as yet. Also, more information is needed about technology imports and funding for the rural sector," said Rakesh Kamal, senior programme manager, climate change, at the Centre for Science and Environment, a Delhi-based environmental think tank.