Sagarika Ghose,TNN | May 22, 2015, 06.15 AM IST
As the Modi government completes one year, railway minister Suresh Prabhu talks toSagarika Ghose about the achievements and missteps so far.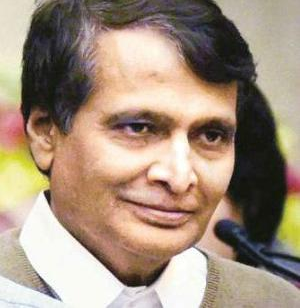 What's the biggest achievement of the Modi government in the last year?
We need to make a contextual assessment. A year ago, the situation was completely chaotic. Business confidence was low. The macro-economic situation was challenging. There was an adverse balance of payments, we had current account deficit, fiscal deficit and the ruling party was in disarray. Look at where we are today. The macro-economic situation has improved, business confidence has gone up, India's foreign standing has gone up immensely. You see the reception the PM gets wherever he goes. We have also started many programmes like Make in India.
Shouldn't you introspect, rather than celebrate?
Yes, point well taken. Ultimately politics is about expectation management. We are not really celebrating one year, we are trying to communicate and we are also introspecting.
You have set out a 8.5 lakh crore plan to improve railways. How will you raise this money?
The first question is: why we need to invest so much. Today railways are marked by inordinate delays. That's because on some routes, such as between Delhi and Kolkata which go through the populous areas of UP and Bihar, railways are operating at 150% of their capacity. The tracks simply cannot any more trains. Maintenance is another issue. I made a five-year budget because we can't complete the work in one year.
Now, the question of how will we raise the money. Within a week of the announcement, we signed an agreement with LIC for Rs 1.5 lakh crore, and we are negotiating with World Bank, ADB, International Finance Corporation.
The finance minister has spoken of tax free bonds and the infrastructure development fund. In fact, more than Rs 8.5 lakh crore is available. We have also signed agreementswith PSUs like Coal India and Steel Authority.
Instead of ambitious plans, why not go for low-hanging fruit first?
In fact, 80% of my budget speech was devoted to lowhanging fruit. Customer service, safety.
Why not make railways a showcase of Swachch Bharat?
We are focusing on Swach Rail, Swach Bharat. I saw a story in your newspaper that Delhi station has become very clean. Secunderabad station is top class. But I appeal to all fellow citizens, that it is impossible to keep the railways clean unless it becomes a collaborative effort. It can't be that I have an inherent right to spit and you as government have the responsibility to clean it up all the time.
You talk about increasing confidence but the investment cycle has hardly picked up.
Given the legacy of the last 10 years, private sector investment is not going to come so quickly. You see, for any project you need debt and equity and both are under stress. Many of those private sector companies who have made equity investment are already stretched, and they are not going to come. The banks, which lend for such sectors, feel that sectorally they have taken enough exposure. So, public investment must first come for the railways. And this will help the economy. I am sure that if my programme is successful it would add 2.5 to 3% of GDP.
The Bibek Debroy committee spoke about an increased role for the private sector in railways.
What's the choice when we don't have the money ourselves? If I have to perform a surgery and I don't have money, naturally I have to borrow. The Railways need surgery.
Do you think you have delivered results as railway minister?
I will request that I be judged within 3 years of the job, not one year. Each of the projects we have started will take 3 years. Not that I am waiting and relaxing. I am taking short-term measures too, such as catering changes and mechanized laundry.