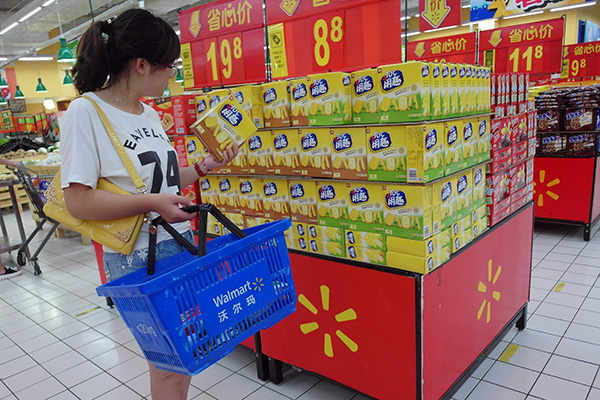 Wal-Mart Stores Inc on Wednesday signed an agreement with China Resources SZITIC Investment Co Ltd for the purchase of minority interests in 21 joint ventures. The deal is valued at 3.3 billion yuan ($520 million).
This agreement is, however, subject to approval from the relevant government authorities.
"Wal-Mart is confident in the Chinese market. We are increasing our investments in China in both Wal-Mart and Sam's Clubs to better serve our customers and members and to become the most trusted retailer in China," said Sean Clarke, president and CEO of Wal-Mart China.
"The investment closely follows the decision to acquire 100 percent of Yihaodian, reflecting our belief that Chinese customers want a seamless online and offline shopping experience," said Clarke.
At the completion of the proposed share purchase, China Resources SZITIC Investment Co Ltd will no longer be a shareholder of the joint ventures with Wal-Mart.
New store openings in China have driven up third-quarter sales growth by 2.9 percent for Wal-Mart Stores Inc, the world's largest retailer by revenue. In the country's hypermarket sector, the retail giant claimed it gained market share for the 11th quarter running.
Officials said China remains a key growth market and that it will continue to invest in its physical and digital operations, to deliver what it called a seamless shopping experience in the country.
Wal-Mart Asia CEO Scott Price said the company continues to drive efficiency in its China stores and across its country operations, and that operating income grew faster than net sales.
Its "operate for less" productivity initiative remains a focus, allowing it to invest in more staff and its customer experience, particularly when it comes to fresh produce.
He said online-to-offline-where shoppers order online and collect instore-is critical to the business, as customers increasingly look for convenience.
During the quarter, he revealed Wal-Mart opened five new stores in Guangdong province's Heyuan and Dongguan, in Zhejiang province's Huzhou and in Guizhou's Bijie.
It plans to open more hypermarkets in the Inner Mongolia autonomous region, Yunnan, Shandong, Fujian, Hubei and Guangdong provinces, it said.
Yihaodian, the retailer's e-commerce business in China, remains focused on further leveraging the company's global and local assets, Price said.
Wal-Mart took full control of Yihaodian in July to further accelerate its online presence in the country.
Price said consumer spending in China had maintained its online momentum during the annual Nov 11 shopping extravaganza, when online shoppers spent $14.33 billion at its stores in a frenzied 24 hours of binge buying.
The Chinese retail industry as a whole set another jaw-dropping sales record on the day, now considered the world's biggest single-day online shopping event.
Alibaba Group Holding Ltd, which experts say accounts for 8 percent of China's total retail volume, reported that 91.22 billion yuan was spent, compared with 57.1 billion yuan in transactions it generated last year.
Price said despite the economic slowdown in China, Wal-Mart remains fully confident in the market, and predicted that within a decade the country will be driving half of the world's retail growth.
His upbeat opinion of the national sector, however, does not appear to be shared by Kantar Worldpanel, the retail consultancy.
In its most-recent study, the firm said that international retailers reported few signs of recovery, and had a 13.5 percent share of the Chinese market during the last quarter, a 1 percent drop from the corresponding quarter in 2014.
Kantar said sales of fast moving consumer goods grew by 4.7 percent in the three months to September this year compared with last-but that was the slowest growth performance in three years.
Its report shows that China's hypermarkets, supermarkets and convenience store sectors all remained sluggish during the period, growing 2.4 percent across the board nationally. In first- and second-tier cities, especially, trade appears to be approaching saturation point, growing just 0.7 percent.
Sales in the largest store format, the hypermarkets, fell by 1.4 percent during the period, while smaller formats have started to gain favor, and grew by 6.5 percent.