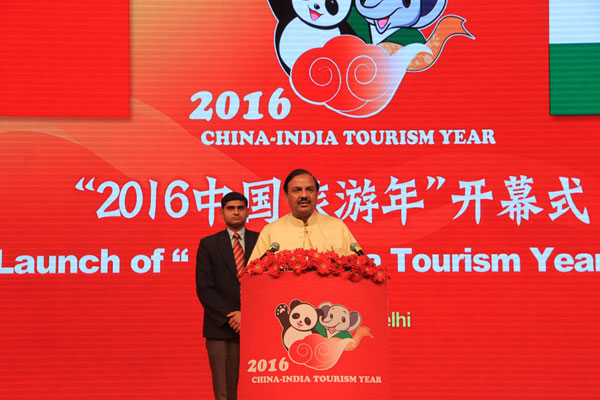 The unveiling ceremony for the "Visit China Year" campaign kicked off in New Delhi on Thursday.
The event is a follow-up of the "Visit India Year," which run through 2015 in China.
China National Tourist Administration chairman Li Jinzao says a big increase in tourism numbers is expected on both sides.
"Last year, 900,000 two-way visits we've recorded between China and India. However, compare to our combined population of 2.5 billion, the potential of tourism exchanges is yet to be fully released, but we are confident that we will set a record of one million two-way visits in 2016 this year."
The idea to host the Tourism Year events was agreed on in 2014 by Chinese President Xi Jinping and Indian Prime Minister Narendra Modi.
India's Tourism and Culture Minister Mahesh Sharma says the event is expected to enhance people to people contact between India and China.
"Travel and tourism can play a significant role in fostering better understanding, effective communication, and closer cooperation between the two societies. I'm happy that the E-visa facility that was extended to Chinese nationals traveling to India for tourism since July, 2015 has a positive impact. I wish Visit-China Year in 2016 all success, and hope this will further promote people to people exchanges between India and China."
According to China National Tourist Administration, there will be nearly a hundred promotion and exchange activities during the "Visit China Year" campaign.
The authority is planning to invite 200 Indian tour operators and journalists to visit China.
Ajay Singh is the owner of a travel agency in New Delhi: "I would like to be the first travel agency in India or Delhi to start to China. This is particularly the evening for me to start something, which would be like a travel relationship between my company and China."
In 2015, 120 million outbound trips were made by Chinese tourists, while their Indian counterparts recorded more than 17 million outbound trips.
India has become a major emerging source of tourists for China, while China is one of the source markets of India with the largest growth potential.