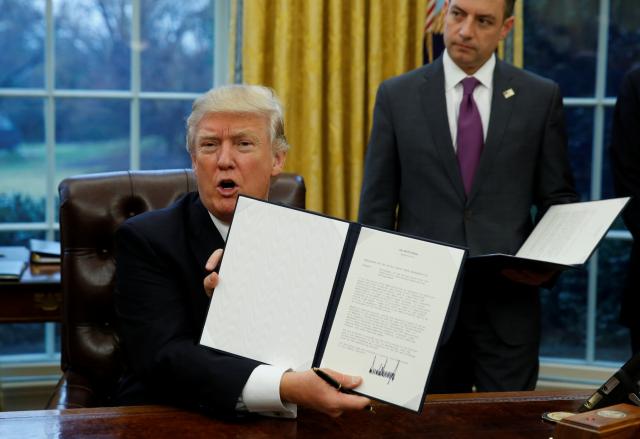 President Donald Trump signed an executive order this morning to withdraw the United States from the Trans-Pacific Partnership.
The move fulfills one of Trump's signature campaign pledges to get out of the sweeping 12-nation trade deal, which he once called "a rape of our country" and said would hurt U.S. jobs.
He pledged in a video shortly after his November election that he would pull out of the deal on Day One of his presidency.
The Asia-Pacific agreement, which the Obama administration negotiated and hoped to ratify before leaving office, is written in such a way that it is effectively dead without the participation of the United States and its huge economy.
Withdrawing from the deal will be welcome news to progressive Democrats and labor groups, some of whom Trump is scheduled to meet with at the White House today. It is likely to anger the other 11 nations involved as well as more mainstream Republicans and economists, some of whom hoped Trump would simply leave the deal alone for a few years — leaving the door open for him or another president to pick it up later.
Senate Minority Leader Chuck Schumer said the deal was dead long before Trump took office, perhaps a nod to even Hillary Clinton's position that the current deal would have been changed in a Clinton White House.
"TPP was dead long before President Trump took office. We await real action on trade," Schumer said.
House Ways and Means Chairman Kevin Brady (R-Texas) said the pact had a number of issues, which is why the TPP was unable to pass congressional scrutiny. But like many in his party, Brady cautioned about a President Trump moving away from the Asian-Pacific region.
"I urge the Trump administration to build on the work that has been done, identify what should be improved, and quickly act on a strategy that creates more economic opportunities for America in that region. In order for our country to create more jobs and increase the prosperity of all Americans, we have to reach new customers around the world through strong enforceable trade agreements," Brady said in a statement.
Trump's skepticism about free trade runs counter to decades of Republican rhetoric. A number of senior Republicans brought this up during the campaign and at least two GOP senators have already condemned the move away from the TPP.
"President Trump's decision to formally withdraw from the Trans-Pacific Partnership is a serious mistake that will have lasting consequences for America's economy and our strategic position in the Asia-Pacific region," Sen. John McCain (R-Ariz.) said in a statement.
McCain, echoing a point made by former President Barack Obama, said exiting the agreement cedes the debate to China.
"It will create an opening for China to rewrite the economic rules of the road at the expense of American workers. And it will send a troubling signal of American disengagement in the Asia-Pacific region at a time we can least afford it," he said.
Sen. Ben Sasse (R-Neb.) said it is clear to him that supporters of free trade have failed to make a persuasive argument.
"We have to make the arguments and we have to start now," Sasse said in a statement.