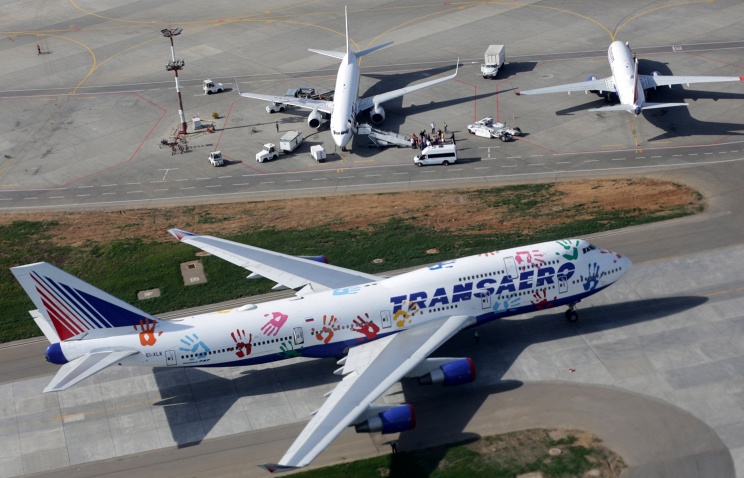 Shares of Transaero airline plunged by 35.5% on the Moscow Exchange on Monday to 7.1 rubles per share after falling by 22% at the opening trade.
On October 21, Transaero stock soared 187% in the course of trading. Experts say the surge last week was backed not by major investors but by small speculators thus, a sustainable growth of the company's shares is unlikely.
On October 22, Transaero shares dropped by 23% on the Moscow Exchange during the trading day. On October 21, the price of shares surged from 6.8 rubles to 19.5 rubles while by now the stock has almost lost all gains of October 21.
Transaero shares grew amid reports that S7 Airlines General Director Vladislav Filev bought at least 51% of the company's shares from Alexander Pleshakov, the largest shareholder of the airline. Filev said that Transaero shareholders have a plan to normalize relations with airline creditors, but refused to disclose further details. He also noted that new shareholders by all means will try to avoid bankruptcy of the airline.
Later, Deputy Economic Development Minister Evgeny Yelin said that the airline has a real chance of survival, and S7 Airlines is taking full responsibility as one of the most efficient companies is acquiring a less effective one and the market stabilizes.
Transaero will continue operations after S7 co-owner purchases its shares, a source in the industry told TASS.
Head of the Russian Federal Air Transport Agency Alexander Neradko said on October 21 that Transaero operator certificate will be canceled on October 26. "According to the results of an unscheduled inspection of Transaero airline, identified deficiencies and the deterioration of key performance indicators and financial and economic conditions of the operator that affects the safety and the rights of consumers, the Commission proposed to cancel Transaero operator certificate … The airline certificate is being revoked from October 26 of this year. The canceled certificate, pursuant to the rules, cannot be restored," he said.