TCA SHARAD RAGHAVAN
SANJAY VIJAYAKUMAR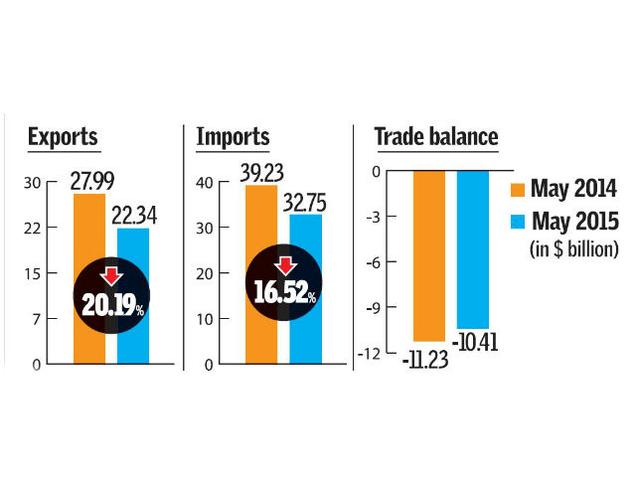 Outlook hazy with U.S., China facing growth challenges.
Though the trade deficit has narrowed, exports and imports have contracted for the sixth month in a row in May.
With countries such as the U.S. and China facing growth challenges, even the export outlook remains hazy. A substantial reduction in the oil import bill, due to declining international prices, primarily helped overall imports contract.
Exports stood at $22.3 billion in May against $27.99 billion in the year-ago period, reporting a 20.2 per cent fall in dollar terms.
However, the fall was marginal when compared with the $22.1 billion in April. Imports during May were at $32.75 billion, down 16.5 per cent on the figures in the corresponding month last year. It was marginally lower than the $33.05 billion in April 2015. The trade deficit narrowed to $10.4 billion in May from $11 billion in April and $11.2 billion in May 2014.
Analysts expect the monthly trade deficit to hold at present levels.
Oil import bill dips by 41 per cent
The oil import bill in May, at $8.5 billion, was 41 per cent lower than what they were in the corresponding month in 2014.
However, gold imports increased 10.5 per cent over their May 2014 figures. Nevertheless, this is far lower than the 78.3 per cent growth seen in April. In fact, in absolute terms, the $2.4 billion of gold imports in May were a three-month low.
"Exports continue to soften with no visible pick-up in global growth. At present, growth in the U.S. is in the negative. China's growth has decelerated to a six-year-low. And, only a slight growth can be seen in the Euro area and Japan. The poor growth outlook will impact our export growth. Import growth, on the other hand, may bounce back if gold imports continue trending up," said a report of Anand Rathi Financial Services Ltd.
This is not all bad, however. "Good import growth in electronic goods and transport equipment are, on the other hand, positive for the economy. With comfortable external balances, the short-term pressure on the exchange rate is contained. An unanticipated U.S. rate hike, however, could pose a challenge," it added.
Keywords: India trade deficit, exports, oil import bill