Brazil, Russia, India, China and South Africa (BRICS) have existed as a coherent economic group since 2009. They represent approximately 40 per cent of the world population, generate approximately 20 per cent of world output, have accounted for 50 per cent of global growth since the end of 2009 and play a crucial role in developing industries dominated by global value chains.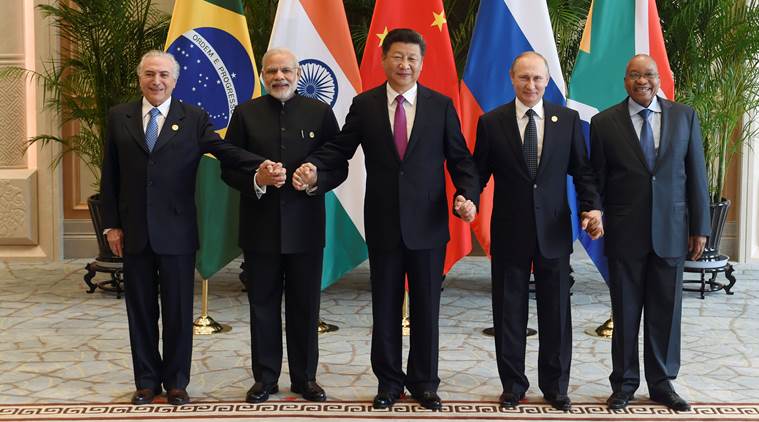 BRICS' cooperation has been driven not only by economic and political factors but also the failure of the existing global economic governance framework to satisfy the needs of these countries. As a result, the BRICS countries have established a new cooperative mechanism that promotes political and security governance structure reform in the UN and in the international financial, monetary and trade systems. Seven BRICS summits have been held thus far.
Importantly, cooperation between the BRICS countries not only produces outcomes that align with their own interests but also reflects the interests of other countries. Their cooperation will lead to progressive changes in the international system and minimise the inevitable shocks that may result from reform.
The G20 is the only global economic governance mechanism that the BRICS countries all participate in as founding and core participators. The BRICS countries also participate in regular informal leaders' meeting during the G20 summits. This not only helps to improve BRICS' influence through forming alliances but also provides a platform for them to express their stance on certain global issues.
Along with other more traditional multilateral economic organisations, the BRICS countries consistently weigh into international economic affairs. For instance, through APEC and the OECD forums, the BRICS countries have conducted various forms of international coordination activities in response to global and regional issues of common concern.
The financial and economic cooperation of BRICS has served as a new and innovative model for achieving further South–South cooperation. This is seen in the BRICS countries carrying out the UN Millennium Development Goals action plans and providing liquidity guarantees, debt reduction, market entry and technology transfers to support poverty-stricken countries. Individual BRICS countries have also expanded the scale of foreign aid for under-developed countries.
In general, the BRICS countries have gradually become aware that they share mutual interests in international affairs and actively participate in international multilateral cooperation. The G20 has become an important platform for them to strengthen cooperation and provides a new supporting mechanism for their participation in global economic governance.
While BRICS and other emerging economies have been pushing for deep reforms in global governance, their national interests and world views differ, which makes complete alignment in the G20 unrealistic. Since 2013, structural problems in BRICS' economies have also been significant, including large income gaps, lack of financial transparency and infrastructure deficiencies.
At the same time, the external economic environment is not favourable to BRICS, with emerging market economies experiencing sharp slowdowns of late. This has led to divergent growth trends between the BRICS economies. Weak geopolitical links, complicated internal and external relations, and inadequate governance capabilities also pose challenges for BRICS.
In light of such challenges, there has never been a better time for China to stand up and play a leading role in encouraging closer cooperation among the BRICS countries. China is the host of the G20 in 2016 and from 1 January 2017 China will also take on the presidency of the BRICS cooperation mechanism. China can serve as a facilitator to advance the implementation of past policy commitments, to shore up long-term growth through innovation and structural reform, and to maintain financial stability in the emerging markets.
China can also continue to promote a stable and resilient international financial structure that improves the representativeness of emerging economies. And, last but not least, China can play an important role in facilitating policy coordination between BRICS and other G20 members.
There is much for BRICS to achieve, from jointly promoting global trade growth to enhancing the transparency of regional trade agreements. But to do this, BRICS must make use of internal exchanges, share knowledge and unify their stance to ensure their voice is louder, clearer and fully reflected in the G20.
Huifang Tian is a senior researcher at the Institute of World Economics and Politics, Chinese Academy of Social Sciences.