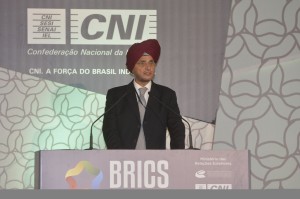 DEAR FRIENDS
ROBERTO MACEDO FROM BRAZIL
ROBSON BRAGA DE ANDRADE FROM BRAZIL
MA ZEHUA FROM CHINA
SERGEY KATRYIN FROM RUSSIA
PATRICE MOTSEPE FROM SOUTH AFRICA
RUBENS DE LA ROSA FROM BRAZIL
ESTEEMED COLLEAGUES FROM BRICS BUSINESS COUNCIL
PARTICIPANTS FROM BUSINESS FRATERNITY AT THE BRICS BUSINESS FORUM
SENIOR OFFICIALS FROM THE GOVERNMENTS OF BRICS COUNTRIES
MEMBERS OF THE MEDIA
LADIES AND GENTLEMEN
IT IS MY HONOUR TO SPEAK ON BEHALF OF INDIAN BUSINESS DELEGATION – I WISH TO THANK MR RUBENS DE LA ROSA AND HIS TEAM TO HOST US IN FORTALEZA WITH ATTENTION TO THE MINUTEST DETAIL FROM THE TIME WE HAVE LANDED HERE.
HEARTIEST CONGRATULATIONS TO MR RUBENS DE LA ROSA FOR TAKING OVER THE CHAIR OF THE BRICS BUSINESS COUNCIL FROM OUR GOOD FRIEND PATRICE MOTSEPE. I WOULD LIKE TO COMMIT ON BEHALF OF INDIAN BRICS BUSINESS COUNCIL ALL THE HELP, CO-OPERATION AND SUPPORT FOR THE SUCCESS OF BRICS BUSINESS COUNCIL UNDER YOUR CHAIRMANSHIP OF MR RUBENS DE LA ROSA.
I AM EQUALLY THANKFUL TO MY BROTHER PATRICE MOTSEPE FROM SOUTH AFRICA WHO HAS LED EFFORTS OF THE BRICS BUSINESS COUNCIL FROM DAY ONE – ATTENDED ALL THE SESSIONS WITH PASSION AND ZEAL, EVERY DELIBERATION HAS BEEN METICULOUSLY PLANNED AND EXECUTED.
WE HAVE HAD SLEEPLESS NIGHTS IN INDIA – ON TWO COUNTS – TIME DIFFERENCE FOR THE FIFA WORLD CUP AS ALSO HOW DO WE MATCH THE EXACTING AND LOFTY STANDARDS AND EFFICIENCY OF PATRICE AND HIS TEAM!
WE AT BRICS COUNTRIES SPEAK DIFFERENT LANGUAGES PORTUGUESE, RUSSIAN, HINDI, CHINESE, AFRIKAANS, EAT DIFFERENT FOODS, WEAR DIFFERENT NATIVE CLOTHES, FOLLOW DIFFERENT RELIGIONS, CULTURES AND CUSTOMS BUT SPEAK AND UNDERSTAND THE COMMON LANGUAGE OF "BUSINESS" WHICH HAS BROUGHT US UNDER ONE ROOF FROM ALL CORNERS OF THE WORLD.
WE NEED TO UNLEASH THE POWER OF BUSINESS BETWEEN BRICS NATIONS AND BRICS AND OTHER EMERGING ECONOMIES (INCLUDING COUNTRIES IN AFRICA WHICH HAS A LARGE CONTINGENT UNDERSTANDABLY SO SINCE AFRICA IS THE FASTEST GROWING CONTINENT!)
TODAY AFTER A YEAR WE LOOK BACK WITH A SENSE OF ACCOMPLISHMENT ON MILESTONES COVERED WITH THE INTENTION TO "WALK THE TALK" ON TIME BOUND DELIVERABLES.
TOMORROW WE WILL PRESENT THE ANNUAL REPORT TO HEADS OF STATE AFTER SEVERAL ROUNDS OF DELIBERATIONS AT TELECONFERENCES EVERY MONTH BY BRICS BUSINESS COUNCIL AND THE WORKING GROUPS WHICH CAPTURES IN ONE VOICE THE SET OF RECOMMENDATIONS TO DEEPEN AND WIDEN THE ENGAGEMENT OF BRICS NATIONS IN A SPIRIT OF "TOGETHER WE CAN "
LET ME TALK OF SOME SECTORS OF INTEREST TO INDIA
AGRICULTURE AND AGRO PROCESSING: AGRICULTURE IS THE BACKBONE OF ANY ECONOMY. INCREASING PRODUCTIVITY AND IMPROVING FOOD DISTRIBUTION IS CRITICAL. WE NEED TO MAKE AGRICULTURE WEATHER PROOF WITH IRRIGATION.
AGRO PROCESSING TO MAKE AGRICULTURE SUSTAINABLE, PUTTING MORE MONEY IN THE POCKETS OF FARMERS AND CREATING PURCHASING POWER WITH MULTIPLIER EFFECTS.
SKILLS DEVELOPMENT: GIVEN THE DEMOGRAPHICS OF YOUTHFUL POPULATIONS IN ASIA, AFRICA AND SOUTH AMERICA WE NEED TO CREATE A POOL OF SKILLED YOUTH WITH SELF EMPLOYMENT CAPABILITIES INSTEAD OF ARMIES OF SUITED- BOOTED EDUCATED BUT UNEMPLOYED YOUTH!
HEALTHCARE AND PHARMACEUTICALS: THERE IS NEED FOR COLLABORATIONS TO COMBAT THE MENACE OF TROPICAL DISEASES, HIV /AIDS /TB ETC COST EFFECTIVELY.
MINING AND ENERGY: WE ARE FORTUNATE THAT WITHIN BRICS–RUSSIA AND BRAZIL ARE LARGE PRODUCERS OF OIL AND NATURAL GAS AND OF WHICH INDIA, CHINA AND TO SOME EXTENT SOUTH AFRICA ARE LARGE CONSUMERS. WE NEED TO LOOK AT MEANINGFUL EXCHANGE OF TRADE, INVESTMENTS AND TECH TRANSFER IN ENERGY SECTOR.
IN REGARD TO RENEWABLE ENERGY ONE OF INDIA'S RATHER THE WORLD'S LEADING FIRMS – SUZLON WHICH IS IN OUR MIDST TODAY HAS A STRONG BASE IN FORTALEZA AND CONTRIBUTING IMMENSELY TO WIND ENERGY SECTOR IN BRAZIL , CHINA , SOUTH AFRICA AND OFCOURSE INDIA.
INFRASTRUCTURE: IS ONE OF THE GROWTH ENGINES FOR UPLIFTING THE ECONOMIES OF BRICS NATIONS WHICH ARE ON THE RUNWAY TO TAKE OFF. WE NEED TO LEARN FROM EACH OTHERS EXPERIENCE AND LOOK FOR SYNERGIES IN THIS AREA.
I FIRMLY BELIEVE TODAY'S WORLD IS THAT OF COLLABORATIVE SPIRIT. WE NEED TO LOOK AT BUILDING ON OUR COMPARATIVE STRENGTHS AND GAINING FROM BUSINESS PARTNERS PARTICULARLY FROM BRICS NATIONS WHERE THEY HAVE A COMPARATIVE ADVANTAGE TO FORM A WIN–WIN RELATIONSHIP.
WE HAVE ALL TRAVELLED GREAT DISTANCES TO BE TOGETHER AT THIS HISTORIC OCCASION. I AM SURE WE WILL RETURN RICHER THAN WE CAME IN WITH IDEAS OF BUSINESS CO-OPERATION, MEANINGFUL BUSINESS ALLIANCES ETC.
LIKE I SAID BEFORE DURING THE LAST ONE YEAR WE HAVE ACCOMPLISHED A LOT AND HAVE LOTS TO ACCOMPLISH …AS THE FAMOUS POET ROBERT FROST POETICALLY SAID "THE WOODS ARE LOVELY, DARK AND DEEP I HAVE PROMISES TO KEEP AND MILES TO GO BEFORE I SLEEP"
WITH THESE WORDS, I ONCE AGAIN THANK MR RUBENS DE LA ROSA, CNI AND THE ENTIRE TEAM IN BRAZIL FOR THIS ENGAGEMENT TODAY AND LOOK FORWARD TO THE DELIBERATIONS LATER IN THE DAY!