China-Africa People's Forum is an important institutionalized activity held in support of FOCAC. Recently, the fourth China-Africa People's Forum was held in Yiwu, where delegates from China and nearly 30 African countries were gathered to discuss on the theme of "Building a Community of Common Destiny and Promoting People-to-People Friendship". To build a community of common destiny, we must take roots among the people and promote people-to-people exchange.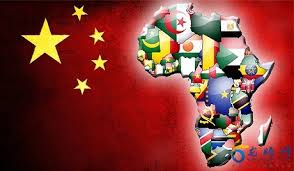 People-to-people friendship — starting from helping one village and one orphanage
On the eve of Christmas in 2014, our journalist went with the young employees of CHEC Water Factory in Lobito of Angola to a local orphanage in Benguela province, bringing to the kids candies and cookies as the festival gifts. The kids came to them in excitement, calling them "Chinese uncles".
Maria (transliteration), head of the orphanage, told us that there were about 90 orphans aged from several months to 19 years in the orphanage. Due to financial constraint, the kids were in shortage of educational and medical supplies. Maria thanked the Chinese company for its years of help to the orphanage, saying that "the Chinese company has brought us much-needed food and educational supplies. The love of the Chinese young people has also warmed up the hearts of these kids who are most in need of love and care."
Hajiaji (transliteration), secretary general of the "African Society" of Egypt, said that the Chinese government and Chinese people supported Africa's national liberation movements in politics, economy and materials. Over the past 20 years and more, China and Africa have paid more attention to people-to-people exchange and cooperation. "I have seen many Chinese businessmen and companies operating in Africa. They have paid more attention to the health, education and environment of the workers."
Chinese Vice-President Li Yuanchao said at the Opening Ceremony of the Fourth China-Africa People's Forum that when the other side encounters difficulties, the Chinese and African people all feel the pains and reach out their hands. When massive earthquakes happened in Wenchuan and Yushu in China, African friends immediately offered condolences and help to the Chinese people. When Ebola burst out in West Africa, China was the first to take actions and offer help, sending over 1200 medical experts and staff to the epidemic areas and offering several rounds of assistance.
People-to-people cooperation – be it in the fight against Ebola or development of agriculture, Chinese experts can be seen everywhere
In early 2014, Chinese medical teams to Senegal and Mali jointly arrived in Ziguinchor, a city in the south of Senegal, to offer free medical services. Learning the news, local people came to the outside of the stadium granted by China early in the morning, waiting in a long queue. The Chinese doctors worked from early in the morning until the evening, even having no time for food and water.
On December 5, 2014, the Chinese Ebola Treatment Center located in Monrovia, capital city of Liberia, received its first patient on the day of its opening. A young man, looking weak and pale with a fever of 39.6 degrees Celsius and suffering from headaches, vomiting and diarrhea, and having the record of contacting Ebola patients, was highly suspected of having been infected Ebola.
One patient, two patients… many more flooding in. The Chinese center operates day and night. The Chinese staff have offered selfless assistance and worked hard against potential danger to their lives. Liberian President Ellen Johnson Sirleaf said that China "has championed the anti-Ebola actions of the international community in Africa".
Statistics show that from 2011 to the present, the Red Cross Society of China has provided US$9.74 million worth of urgent humanitarian assistance to 18 African countries, donated US$2.95 million worth of office equipments, facilities and medical supplies to the Red Cross Societies of ten African countries. It has also sent two batches of emergency relief experts to offer training in Africa, and implemented rural community development programmes in Ethiopia and Uganda. All these measures have effectively improved the working and living conditions of the most vulnerable people in local communities, and demonstrated the sincerity, affinity and good wish of the Chinese people to the African people.
Similarly, Chinese agricultural technicians are also touching the African people with their selfless dedication. The team of rice experts of the Chinese group of agricultural experts in assistance of Senegal works at the Senegal river in the north of the country, facing very tough working conditions. Zheng Junjie, head of the expert group, told us that when visiting local villages to offer technical guidance, the Chinese experts lived and worked together with local farmers, often rolling up their sleeves and coming to the fields to teach local farmers how to transplant rice seedlings.
At present, most of China's assistance to Africa is related to people's livelihood. Over 3000 Chinese companies investing in Africa have directly created over 100,000 jobs for the local people. In its cooperation with Africa,China will continue to give top priority to the livelihood areas such as poverty alleviation, agriculture, health, clean water, disaster prevention and relief and increase input of finance and manpower, so as to deliver tangible benefits to the African people.
People's investment — over 75% of the 3000 plus Chinese businesses are private ones
Lu Fang, aged 36 years from Shanghai, arrived in Lesotho, a country in southern Africa in 1999. In 2000, he opened up a garment factory called Yisheng Garment with his elder brother. In the beginning, the factory hired only 180 local people and could not take orders by itself, only able to work for big factories. Last year, the factory already employed 1100 people, able to negotiate for business orders independently with American companies. Its annual turnover has reached 60 million rands (one US dollar is about 11.8 rands).
Saleteng (transliteration),CEO of Lesotho's Ministry of Trade and Industry, said that one important reason behind the fast growth of the garment processing industry of Lesotho is the establishment of a host of Chinese factories, which have brought needed equipments, technologies and experiences, improving the capacity of garment processing of the country.
Hifikepunye Pohamba,former president of Namibia, expressed thanks to the Chinese companies at the Fourth China-Africa People's Forum, saying that "China has always been a sincere and tested partner of Africa. In Namibia, for example, we have developed a lot of cooperation with China, especially in infrastructure. The Chinese companies helped us build many roads. Africa has resources, but not related technologies. After coming to Africa, Chinese companies transferred the technologies to us for free, often saying "Let us act together and cooperate", and we are very happy about this."
At present, Africa is accelerating industrialization, and is in urgent need of foreign investment in the areas of manufacturing, agriculture, energy and resources, and in high demand of industrial capacity that suits the development stages of countries in the continent. China's economy has entered a new normal. And it is working to promote industrial transformation and upgrading, for which a large number of advantageous industries and production capacity will shift overseas. In China, the private sector is making more and more contribution. After more than 30 years of reform and opening up, the private businesses of China have accumulated strong investment capability, sound and applicable technologies and managerial experience, which are what Africa needs for industrialization.
Yao Jiamei, research fellow of the Institute of West Asia and Africa Studies of the Chinese Academy of Social Sciences, said that in comparison with European countries and the US, China is the late comer in terms of investment in Africa. But China's investment in Africa has been growing very fast in recent years. There are now diverse sources of investment in Africa. Large and medium-sized state owned enterprises (SOEs) are the main source of investment among Chinese investors in Africa, but private businesses are also growing their presence in African countries. By the end of 2014, there are 3092 Chinese companies investing in Africa, over 75% of which are private ones, mainly investing in countries like Nigeria, South Africa, Ethiopia and Ghana. The investment mainly goes to labor-intensive industries such as manufacturing and services, but is also related to mining, agriculture and infrastructure. Whether for SOEs or private businesses investing in Africa, they should all view the development of Africa as their opportunity and meet the demand of African countries.
People-to-people communication — exchange of thoughts is essential
In 2011, the Chinese TV series –"The Beautiful Daughter-in-Law Era" achieved great success once being shown. The Chinese movies and TV series, as a medium for cultural exchange, have travelled across oceans and rivers, increasing understanding of the African people about China. Yang Peili from Beijing Administration of Press, Publication, Radio, Film and Television said that the Chinese TV series have the market and space in Africa, very popular among the African general public. Initial statistics show that many African people expressed interests and curiosity over the lives and work of the Chinese young people after watching Chinese TV series, hoping to gain more understanding of China.
The popularity of Chinese TV series in Africa is only one epitome of China-Africa people-to-people and cultural exchange. New development of China-Africa friendly cooperation has offered new opportunities for the Chinese and African media to comprehensively deepen cooperation. The 2015 "Belt $ Road" Media Cooperation Forum hosted by People's Daily was held in Beijing last September, attended by many media representatives from African countries. Last year, the StateAdministration of Press, Publication, Radio, Film and Television held the second China-Africa Media Cooperation Forum in Beijing, attended by over 260 representatives from 42 African countries including government officials and heads of media organizations, during which the two sides signed 19 cooperation agreements.
Moreover, China and Africa are also enjoying more frequent exchanges among think tanks, which is closely related to the booming business cooperation of the two sides. At the fourth China-Africa Think Tank Forum held early September in South Africa, dozens of Chinese and African scholars and experts exchanged views on how to build "Three networks" and promote industrialization in Africa. "More and more Chinese businesses hope to learn about laws and policies of African countries on economy and trade, so as to gain support for them to go to Africa." President Jiang Guojun of Zhejiang Normal University said that many Chinese private businessmen began to seek consultation from the Forum, which shows the role of intellectual support of China-Africa think tank exchanges for China-Africa business cooperation.
Liu Hongwu, dean of the Institute for Africa Studies of Zhejiang Normal University, believes that one important part of building China-Africa community of common destiny is to promote exchange and cooperation between the two sides in knowledge, thoughts and culture, and establish a "partnership for sharing knowledge and exchanging ideas" towards the strategic goal of common development, so that the two sides can utter the same voice on major issues such as the reform of global governance system. To that end, the civil societies and think tanks of China and Africa must work pertinently and take effective tools to promote better understanding of the other side, of itself, and of the changing relations between them and with the outside world, and make "Africa study in China" and "China study in Africa" open and inclusive.
"True friends are most precious". Although located far away from each other, the Chinese and African people enjoy a natural affinity, and always view each other as best friends, partners and brothers. Through exchange and cooperation among civil society groups, media and think tanks, we are advocating friendship between China and Africa and making everyone realize that Africa is an opportunity. We are contributing a positive energy for China-Africa relations, and making China-Africa people-to-people exchange more solid and strong.