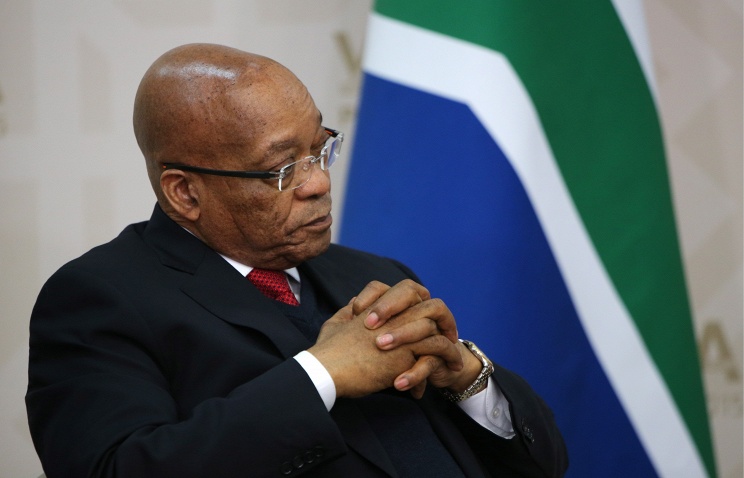 South Africa's economy contracted in the second quarter, increasing the risk of a recession for a nation grappling with a plunging currency, power shortages and a slump in commodity prices.
Gross domestic product fell for the first time in more than a year, declining an annualized 1.3 percent from the previous quarter, when it expanded 1.3 percent, the statistics office said in a report released in the capital, Pretoria, on Tuesday. The median estimate of 18 economists surveyed by Bloomberg was for GDP to gain 0.6 percent.
Power constraints and a slump in prices of platinum, copper and other commodities are stifling output and limiting the economy's recovery from the slowest expansion last year since the 2009 recession. That's canceling out any benefit to exports coming from the rand's slump to a record low of 14.0682 against the dollar on Monday.
"There are, unfortunately, very few factors telling us that economic growth and activity can pick up, especially in the context of the weak international economy, and particularly China," Jana van Deventer, an economist at ETM Analytics in Johannesburg, said by phone. "One can't rule out the possibility of a recession in South Africa."
Recession Risk
Manufacturing, which makes up about 13 percent of the economy, contracted for a second straight quarter, declining an annualized 6.3 percent, while mining dropped 6.8 percent and agriculture shrank 17.4 percent. Half of the 10 GDP sub-industries fell, while categories such as financial services, construction and transport expanded.
South Africa faces more than 60,000 job losses this year, mainly in mining as companies from Anglo American Plc to Lonmin Plc plan job cuts, according to labor union Solidarity. A collapse in wage talks between gold producers and the two biggest labor unions in the industry adds to more volatility.
Jobs Target
"The steep decline in quarterly GDP raises the risk that the economy will tip into a technical recession in the third quarter," Sizwe Nxedlana, chief economist at FirstRand Ltd.'s First National Bank unit, said in an e-mailed note. "This may depend on whether the recent wage disputes in the gold and coal industries result in strikes and lost production."
South Africa has little hope of meeting growth and jobs goals set in the government's economic blueprint, known as the National Development Plan, Statistician General Pali Lehohla told reporters in Pretoria. The NDP's target is to boost growth to 5 percent by 2019 and create 6 million jobs by then.
Inflation Target
"There are strikes, the super-cycle of minerals has died," Lehohla said. "Those who have set these targets have to sit up straight and say: what are we going to do to get to these targets."
The central bank has little room to support the economy as a weaker rand fuels inflation. The Reserve Bank increased its benchmark repurchase rate by 25 basis points to 6 percent last month, the first policy move in a year, forecasting that inflation will exceed the 3 percent to 6 percent target band for the first half of next year.
The bank will "conduct policy in a manner that is sensitive to the fragile state of the economy," Governor Lesetja Kganyago said on July 31. He estimates expansion of 2 percent this year.
Rate Bets
Investors pared back bets of interest-rate increases. The yield on the government rand bonds due December 2026 fell nine basis points to 8.44 percent. Forward-rate agreements, used to speculate on borrowing costs, are now pricing in only 18 basis points of rate hikes at the September monetary policy committee meeting, compared with a full 25 basis points on Monday.
The rand gained 1.6 percent to 13.0207 against the dollar as of 3:34 p.m. in Johannesburg, recouping some of its losses yesterday and taking its decline this year to 11 percent.
"The Reserve Bank will still want to come across as sensitive to the weakening economic environment locally and globally," Jeffrey Schultz, an economist at BNP Paribas Cadiz Securities in Johannesburg, said by phone. "They are likely to be more cautious in their approach to interest rates and push the next rise out to November or even next year."