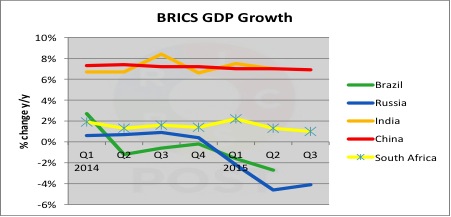 The South African real economic growth rate slowed to 1.0 per cent year-on-year (y/y) in the third quarter from 1.3 per cent in the second quarter and 2.2 per cent in the first quarter, according to estimates released by Statistics South Africa (Stats SA).
This puts South Africa in the middle of the BRICS growth table as Brazil contracted by 2.7 per cent y/y in the second quarter, Russia slumped by 4.1 per cent in the third quarter, India expanded by 7.0 per cent y/y in the second quarter and China grew by 6.9 per cent y/y in the third quarter.
The main reasons for the slowdown are the drought, which impacted on agriculture, poor commodity prices, which impacted on mining, and slower project execution, which meant that new electricity generation capacity lags behind by over three years. Africa's most advanced economy is battling its worst electricity crisis.
Policy makers can do little about the first two reasons, while the South African power utility Eskom project problems are being addressed by the "War Room", which has implemented a "Tetris" maintenance schedule that has prevented electricity blackouts since 14 September 2015.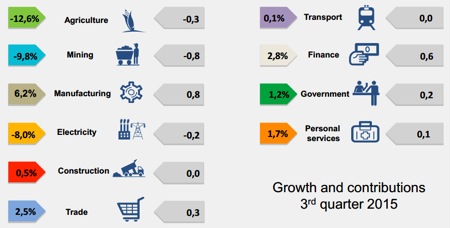 South African Finance Minister Nhlanhla Nene in October reduced the government's real gross domestic product (GDP) growth forecast to 1.5 per cent in 2015 from 2.0 per cent in the February 2015 Budget, the 2.4 per cent forecast in the October 2014 Medium term Budget Policy Statement and the 3.2 per cent forecast in the February 2014 budget. In the first nine months of 2015, real GDP expanded by 1.5 per cent y/y.
This deterioration in the 2015 growth forecast is in large part due to the electricity supply constraint as the state-owned electricity utility Eskom has had to impose occasional load shedding since a coal storage sile collapsed at the Majuba power station at the beginning of November 2014. Treasury estimates that the lack of electricity supply reduces GDP growth by some 1 percentage point.
According to these estimates, without the electricity supply constraint the economy would have grown by 2.5 per cent.
The Medupi power station was originally scheduled to connect to the national grid with the first of six 794 Megawatt (MW) units in 2011, but this was only achieved in August 2015.
More units will come on stream in 2017 and 2018, which is why Treasury forecasts a gradual recovery in the real economic growth rate to 1.7 per cent in 2016, 2.6 per cent in 2017 and 2.8 per cent in 2018.