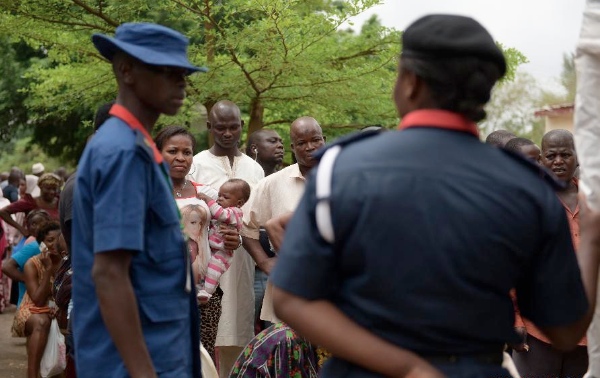 Local residents wait to attend the election vote at a polling station in Abujia, Nigeria, March 28, 2015 [Xinhua]
South African President Jacob Zuma on Wednesday congratulated Nigerian president-elect Muhammadu Buhari, saying the results were proof of "deepening democracy" in the African continent.
"We would like to congratulate the winner in Nigeria. This is absolutely good news- the deepening democracy in the continent can be seen. The results that have come is a result of democratic processes. The fact that this has happened in Nigeria, in the manner in which it has, particularly if you take Nigeria as one of the leading countries in the continent, which must lead by example; I think this is a perfect example," Zuma told reporters in Pretoria on Wednesday.
The Nigerian election results "is encouraging to all of us", said Zuma.
"We are happy that at last democracy is the way to go in the continent," the South African President added.
Nigerian voters handed President Goodluck Jonathan a resounding defeat at the polls.
Jonathan conceded he had lost to his main rival, Muhammadu Buhari, a former military commander who ruled Nigeria from 1983 to 1985.
His win ends nearly 16 years of rule by Jonathan's ruling party, the People's Democratic Party (PDP), in power since military rule ended in 1999.
The win by Buhari's All Progressives Congress (APC) is also seen as the first democratic transfer of power in the oil-rich nation of 173 million people.
Nigeria has overtaken South Africa as Africa's largest economy after a rebasing calculation almost doubled its gross domestic product to more than $500 billion in April last year.
Nigerian election results comes at a time of rising investor interest in the African continent's growth potential and expanding middle class, although the rising Boko Haram insurgency had partially clouded its growth outlook.
Nigerian Finance Minister Ngozi Okonjo-Iweala had said last year that some potential foreign direct investment might be affected negatively by the Islamist insurgency but existing investors – especially those from emerging powers such as South Africa, China and Brazil – were proving resilient.
TBP and Agencies