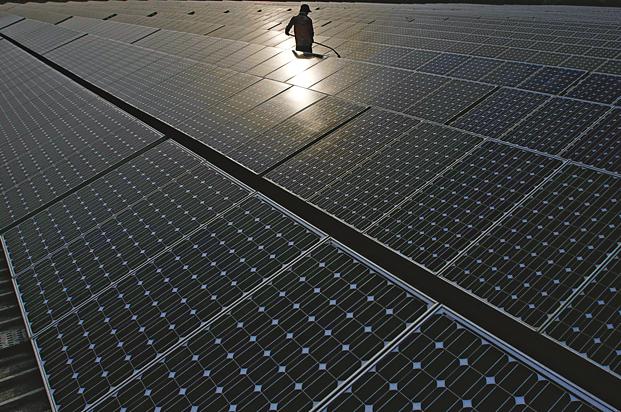 Mumbai/Hyderabad: SB Energy, a joint venture between Japan's SoftBank Group Corp., India's Bharti Enterprises Ltd and Taiwan-based Foxconn Technology Group, has won a 350 megawatt (MW) solar power project in Andhra Pradesh after it matched the record low bid seen in the previous round.
SB Energy, formerly known as SBG Cleantech, won the project under the Jawaharlal Nehru National Solar Mission at a 25-year tariff of Rs.4.63 per kilowatt-hour (kWh), SoftBank said in a statement.
India's solar power tariff touched a record low of Rs.4.63 last month when US-based SunEdison Inc. won a 500MW tender put out by state-run utility NTPC Ltd in Andhra Pradesh under the National Solar Mission. SB Energy lost the project as it bid higher at Rs.4.80 per kWh.
It is the first renewable energy project that SB Energy has won in India. The venture was set up in June after SoftBank Corp.'s Masayoshi Son pledged to invest least $20 billion in solar energy projects in India.
"This is SoftBank's first step towards realizing its $20 billion commitment to promote clean and safe energy in India," the Japan-headquartered telecommunications and Internet firm said in a statement. It plans to commission 20 gigawatts (GW) of solar capacity in India.
"Our goal is to create a market-leading renewable energy company to fuel India's growth with clean, reliable and affordable sources of energy. I am glad that we could open our account today with this win," said Nikesh Arora, president and chief operating officer, SoftBank.
SB Energy is headquartered in New Delhi and has Bharti veteran Manoj Kohli as executive chairman and SoftBank executive Raman Nanda as chief executive officer.
The 350MW capacity is meant for a single project inside the Ghani Sakunala Solar Park developed by NTPC, which will also be the buyer of the power produced from the plant.
The auction, which concluded late on Monday night, also saw Yarrow Infrastructure Ltd, a part of the IndiaBulls Group, bid at Rs.4.64, while Azure Power India Pvt. Ltd bid at Rs.4.76 and Reliance CleanGen Ltd bid at Rs.4.88, according to two companies who participated in the auction.
Other bidders that quoted a tariff above Rs.5 per kWh included Goldman Sachs-backed ReNew Solar Power Pvt. Ltd, China's Trina Solar's unit Mira Zavas Pvt. Ltd and Marikal Solar Parks Pvt. Ltd, a unit of American photovoltaic module maker First Solar Inc.
"SoftBank is surely establishing itself as a serious and competitive player in the market. The company is likely to be a strong contender in the upcoming national bids as well," said Jasmeet Khurana, associate director, consulting, at Bridge to India, a consulting firm.
Recent bids show there are only about 10-12 developers that have the appetite to continuously try and take up large projects at current tariff levels, Khurana said.
Some expect the upcoming auction in Rajasthan—to be held later this year for a capacity of 420MW—to see more aggressive bids as solar parks in the state have lower costs than those in Andhra Pradesh.
Some industry experts, however, have raised concerns over the viability of projects won at aggressive tariffs.
"This raises questions on the long-term viability. The advantages these companies (SunEdison and SoftBank) had in these two bids is that the plants would be at solar parks so they do not have to worry about setting up everything on their own. Also, NTPC is more bankable than any other state distribution companies," said Bharat Bhushan Agrawal, senior analyst, India solar, at Bloomberg New Energy Finance.
SunEdison, the world's largest renewable energy company, is also increasing focus on India, its second largest market after the US. China's Trina Solar and Russia's OAO Rosneft, and Italy's Enel Green Power are among other global firms looking to invest in the Indian solar market.
India has raised its 2022 solar energy target to 100GW from 20GW as part of the Narendra Modi-led National Democratic Alliance government's efforts to lower dependence on coal-fuelled electricity.
India has a $250 billion investment opportunity in the renewable energy sector, Piyush Goyal, minister for power, coal and renewable energy, said at Mint's fifth energy conclave in New Delhi in September.