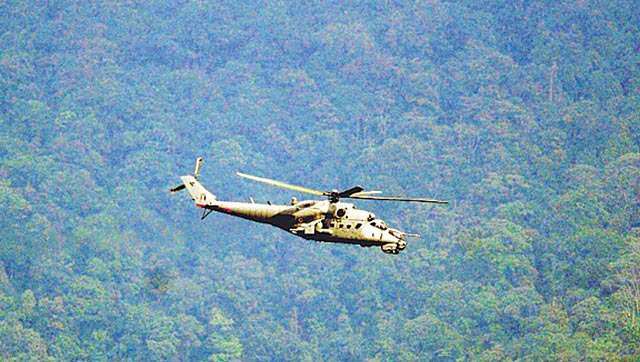 The commander-in-chief of Myanmar's Armed Forces, Senior General Min Aung Hlaing, will visit New Delhi later this month at the invitation of Army chief Dalbir Singh to discuss coordinated patrolling against insurgents on the India-Myanmar border.
The visit comes as the Narendra Modi government is set to ban the Myanmar-based NSCN(K) insurgent group that is responsible for the June 4 ambush on an Indian Army convoy in Manipur's Chandel district.
Although South Block is still awaiting confirmation of the dates of the visit, the all-powerful head of the Myanmar Army is likely to be here in the last week of July.
The senior general, who is senior to the Myanmar defence minister, will meet India's top leadership, including PM Narendra Modi and defence minister Manohar Parrikar, and will offer cooperation against anti-India insurgents operating from within his country.
"Armies on both sides will re-affirm intensified patrolling along the border with commanders on both sides in touch with the other for better coordination in anti-insurgent operations," said a senior official.
While Myanmar has a ceasefire agreement with the NSCN(K), National Security Advisor Ajit Doval conveyed to Naypyidaw last month that such an agreement was counter-productive as the group's leader SS Khaplang was also chairman of the United National Liberation Front of West, South and East Asia (UNLFW).
This newly-formed group is a conglomerate of cadres from the Nationalist Socialist Council of Nagaland (Khaplang), United Liberation Front of Assam (Paresh Barua), Kamtapur Liberation Organization and the National Democratic Front of Bodoland. Doval pointed out that Myanmar urgently needed to take action against these anti-India insurgents as they would expand in the future and cause a headache for its army.
As several such insurgents have been operating from small camps across the Arunachal and Manipur border in Myanmar, South Block sources said India would offer financial support to Myanmar to build border infrastructure in order to act against insurgents seeking shelter in makeshift camps west of the Chindwin River.
India has also decided to act against Northeast insurgent groups, particularly the NSCN(K), and especially target their finances and property acquired through ill-gotten extortion money.
MHA calls CMs' meet
The government has called a meeting of CMs of north-eastern states in Guwahati on July 11 to discuss their security and development related issues. Formulating a strategy to deal with Myanmar based insurgents and strengthening security at the Indo-Myanmar border will be the priorities of the meeting to be chaired by Union home minister Rajnath Singh.