South Africa's newly re-appointed finance minister on Monday ordered state-owned airline SAA to conclude a deal with Airbus to lease five A330 wide-body planes, after weeks of turbulence at the troubled carrier.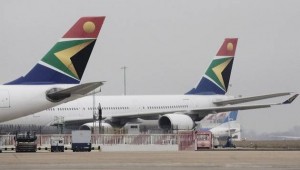 "The Minister of Finance, Pravin Gordhan, directed the board of South African Airways (SAA) to conclude the swap transaction with Airbus in line with approval granted in July 2015," said a Treasury statement released late night on Monday.
The minister's directive thwarts attempts by the SAA chairwoman Dudu Myeni to renegotiate the deal – a move that would have hit the loss-making airline's finances hard.
Ex-finance Minister Nhlanhla Nene had publicly slapped down the bid to negotiate a new plane-leasing deal with Airbus.
Early this month the minister was sacked from his job by President Jacob Zuma, leading analysts and the media to speculate that he was dumped over the aircrafts controversy.
Nene's firing 18 months into his job, and his replacement with little known backbencher David van Rooyen, triggered financial turmoil that sent the rand into a tailspin, plummeting to record lows as investors fled Africa's most sophisticated economy.
The backlash forced Zuma into a dramatic U-turn, sacking Van Rooyen after four days and re-appointing Gordhan, a steadying hand who held the key finance portfolio from 2009 to 2014.
Apparently shaken by the market response, Zuma took the unusual step of officially denying rumours that he had a romantic relationship with SAA board chairwoman Myeni.
Meanwhile Treasury said "a process is under way to conclude (the deal) within the next few days."
"Airbus has indicated that they are amenable to the implementation of the transaction and have required that all legal documentation be in place by 28 December 2015," Treasury said.
The transaction will see SAA swap the purchase of 10 A320 aircraft originally negotiated in 2002, for a lease of five A330-300 aircraft from Airbus.