JOHANNESBURG, Oct. 5 (Xinhua) — South African senior business executives and government officials who had just returned from China said they have learned a lot from China's experiences.
"This was a learning journey. The trip was done to understand how they managed to build their economy and also to understand their reforms and the economic rebalancing. We wanted to ask what does the story of China rise mean to South Africa? What lessons can take and plough back to South Africa,"said Martyn Davies, managing director of an emerging company, who organized the trip.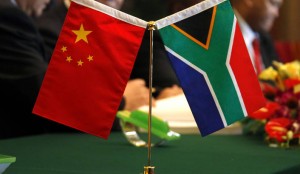 The South African delegation visited China from Sept. 23 to Oct. 2. The team comprised of South African Revenue Service, Trade and Investment KwaZulu-Natal, Absa bank, Barclays bank, Nedbank, Amka, Atio telecoms and some Henley Business School's Masters in Business Administration (MBA) students.
The South African team interacted with various organizations in China including the China-Africa Development (CAD) Fund, New Development Bank and Shanghai Stock Exchange among others.
Davies said the lessons they got from conversations with the Chinese were taken back by different executives from the government and private sector.
Garikai Matambo, a research analyst from Frontier Advisory, said the journey was an eye opener for many executives to understand the Chinese story.
He said they learned how to make urban planning and got an understanding about how the Shanghai Stock Exchange was operated.
"We wanted to get the formula right from those who are getting it right and are not shy to share their experiences. We took some lessons applicable to the South African environment which would help these companies,"he added.
"It was also great to meet the BRICS New Development Bank officials and learn from the new institution that is coming to play in the global development," Matambo said.
Matambo said they saw unity in the Chinese companies and were impressed by the hard work of the employees.
The trip was meant for senior executives to familiarize themselves with international business trends and best practices.