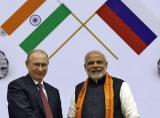 Prime Minister Narendra Modi is likely to convey to Russian President Vladimir Putin New Delhi's concerns over Moscow's growing defence ties with Islamabad and its recent decision not to support India's bid to nail Pakistan on terror financing in a multilateral forum.
Modi is likely to meet Putin on the sidelines of the summits of the BRICS and Shanghai Cooperation Organization at Ufa in Russia later this week. India has been upset over reports that Moscow and Islamabad had almost concluded negotiations over sale of Russian MI 35 Hind E attack helicopters to Pakistan.
What added to New Delhi's disappointment is the lack of enthusiasm on the part of Russia to support India's recent bid to seek strong actions against Pakistan in the plenary session of the Financial Action Task Force at Brisbane in Australia.
Russia joined China to thwart India's bid to seek Financial Action Task Force (FATF) actions against Pakistan for its failure to freeze assets of Dawood Ibrahim and Lashkar-e-Toiba leaders, who are designated by the UN as Al Qaeda affiliates and put under global sanctions.
New Delhi, however, succeeded in ensuring that the Asia Pacific Group on Money Laundering – an affiliate of the FATF – would keep tab on Pakistan's compliance of the UN sanctions on terrorist organizations and leaders.
India was surprised by Russia's decision to join China to shield Pakistan. Moscow had previously been generally in support of New Delhi in international forum on the row over Kasmir and other issues related to India-Pakistan disputes.
Modi is also likely to convey to Putin his government's concerns over implication of Russia-Pakistan defence cooperation on security interests of India. Sources told Deccan Herald that Modi would convey to Putin that while New Delhi had nothing to say about bilateral ties between two other nations, it would definitely expect that Russia would not be oblivious of its decades-old and time-tested relations with India and legitimate security interests of the latter in the region.
Pakistani Army chief Gen Raheel Sharif visited Moscow last month and met top civilian and military leadership of Russia. His was the first visit by a Pakistani Army chief to Russia in the recent years.