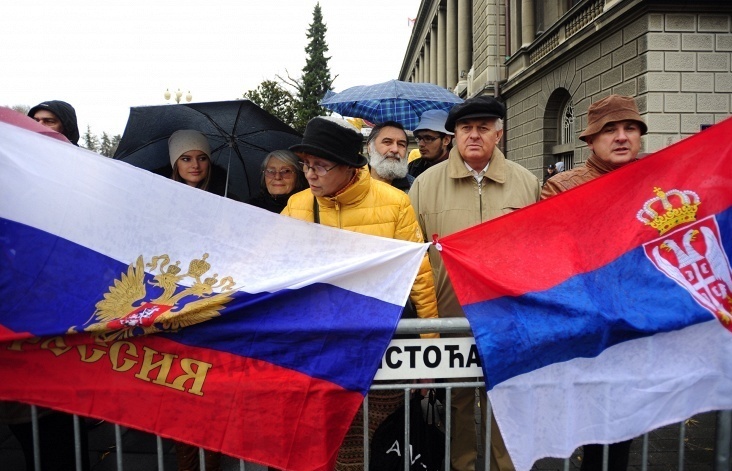 Trade between Russia and Serbia is growing as Serbia was quick enough to take vacant niches on the Russian food market, Russia's Deputy Prime Minister Dmitry Rogozin said on Tuesday at a news conference after the 14th session of the Russian-Serbian intergovernmental committee for trade, economic, scientific and technical cooperation. "
According to Russia's customs statistics, bilateral trade expressed in physical terms was growing in the first ten months of 2015," he said, adding additional possibilities were opening up thanks to active participation of Serbian companies and businessmen in agricultural and food exhibitions and fairs in Russia.
Promising Projects
He said the commission had scrutinized a number of projects "not only in the energy sector." The biggest among them is an infrastructure project of Russian Railways Co (RZD) and Serbian Railways to a sum of more than $940 million to be sponsored by a Russian government loan. "
Apart from that, Russia's state nuclear corporation Rosatom has launched a project for the establishment of a regional radio pharmaceuticals production center in Serbia," Rogozin said.
In his words, the sides were looking at projects for the establishment of assembly production of Russian LIAZ buses in Serbia and sales of trolleybuses. "We are pleased to say that we have begun to sell Russian-made GAZelle Next commercial vehicles and LIAZ passenger buses on the Serbian market," he said. "Cooperation is being developed in the banking sector. The Russian rouble is being more widely used in settlement."
Military Technical Cooperation
Touching upon plans for military technical cooperation, the Russian deputy prime minister said a high-level commission would be set up within the Russian-Serbian intergovernmental committee by the spring of 2016. Apart from that, another commission, that on strategic issues, would also be established under the intergovernmental committee to consider both big energy projects and "issues that have recently emerged as a result of restrictions Russia was forced to impose on imports from Turkey following the crime Turkey's leadership and air force had committed against the Russian military peacekeeping mission in Syria."
Development of Tourism and Agrarian Sectors
He cited tourism and agrarian development as top priority issues. "I think a specialized Trade House should be set up in the near future to support Serbian small and medium farms to ensure logistics for importing high-quality agricultural produce to the Russian market," Rogozin said. "It is important to waste no time to gain a stronghold on the market, which is still open. And we will be glad to welcome the Serbs on the Russian market."
"We have agreed to do our best, to take extra efforts to give maximum strong potential to Russian Prime Minister Dmitry Medvedev's forthcoming visit to Belgrade planned for this year," he stressed.
He reminded that Russia's second largest city St. Petersburg would host the 20th jubilee Petersburg International Economic Forum on June 16 through 18, 2016 and invited Serbian government officials and businessmen to take part in it.
He said the Russian-Serbian intergovernmental committee for trade, economic, scientific and technical cooperation would have its next meeting in Russia in October. "I think this committee will meet in the old Russian cities of Vladimir and Suzdal," Rogozin added.