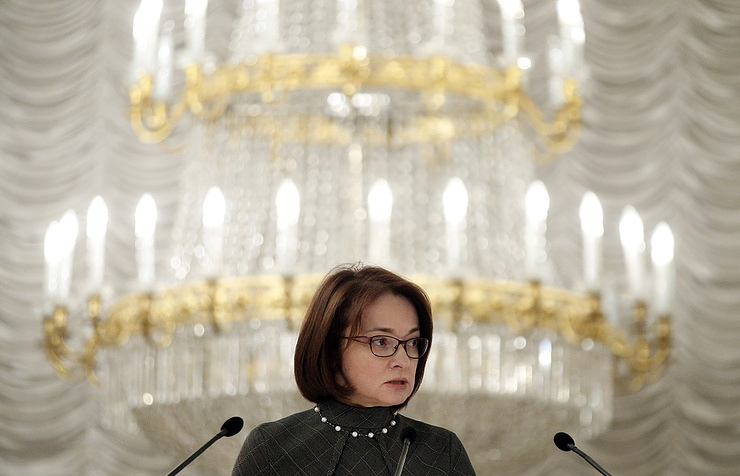 The Russian banking system is capable of financing economic growth, Chairperson of the Central Bank Elvira Nabiullina said on Monday.
"We managed to preserve population and companies' confidence in the banking system. The banking system restored population's deposits by increasing capital. Lending for the real sector of the economy does increase, though not highly, and it shows the banking system is capable to continue discharging its main function – financing the economic growth," Nabiullina said.
According to the official, the Bank of Russia intends to continue financial recovery policy for the banking sector.
"We will proceed with this banking sector financial recovery policy. Our main task is to switch to a proactive position and early prevention of problems," Nabiullina said.
4% inflation target no super-challenging task 
Elvira Nabiullina does not consider meeting of 4% inflation target to be a super-challenging task.
"The task for 2016 is to pursue the interest-rate policy aimed at reaching 4% inflation by the end of 2017. We're trying to reach it at any cost… We consider the policy of reaching 4% inflation as part of the general economic policy aimed at creating background for economic growth. Nevertheless, 4% inflation is not a super-challenging task," Nabiullina said.
 The Russian Accounts Chamber shares the position of the Central Bank regarding the deadline for reaching the inflation target.
"We share the Central Bank's position. We can meet the [inflation] target [of 4% by the end of 2017] under certain conditions and respective measures," sais Tatyana Golikova, the head of the Account Chamber.
Last year's economic recession could have been greater
The Central bank chief has pointed out that last year's economic recession in Russia could have been greater without allowing the ruble to float.
"Among the key trends we're facing now are declining inflation with risks remaining in mid-term budgetary policy, and the floating exchange rate (of the ruble) for the whole 2015, which caused volatility but stabilized the economy as without it the recession could have been greater," she said.
According to Russia's state statistics service Rosstat, the country's GDP contracted by 3.7% in 2015.
Growing debts of bridge banks
The Bank of Russia is concerned of growing debts of bridge banks in the course of financial recovery procedures and measures to increase their equity are needed.
"We started applying more sanctions but there is a challenging point of concern for us. The debt load on banks is growing and equity should be increased, so we need to think how to do that efficiently," Nabiullina said.
No shortage of currency liquidity
The Central Bank official has also noted that Russian banks are facing no shortage of currency liquidity.
"We see that as of now there is no shortage of currency liquidity in the system and the banks' need for currency to be provided by the Central Bank has dropped through the floor during the year, which demonstrates stabilization in the sector," Nabiullina said.