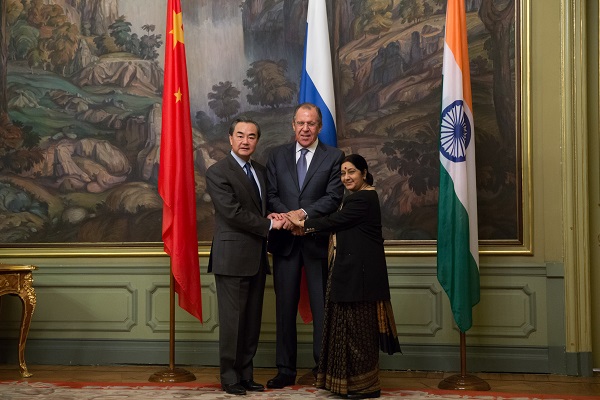 Foreign Ministers of Russia, China and India have met in Moscow for the 14th trilateral RIC summit aimed at fostering greater strategic cooperation between the three nations.
Chinese Foreign Minister Wang Yi on Monday suggested that China, Russia and India (RIC) expand cooperation so that the three-party mechanism plays a bigger role in global affairs.
Wang urged his Russian and Indian counterparts Sergey Lavrov and Sushma Swaraj to coordinate positions on global hotspots.
"The ever-changing global and regional circumstances have underlined the need for closer communication among the three countries and more contributions from them to the settlement of complicated hot-button issues," Wang said.
RIC, formed more than a decade ago, is focussed on strategic issues of multilateral cooperation and democratic international relations.
Monday's talks focused on the crises in Syria and Ukraine, as well as the peace process in Afghanistan and the Middle East, Chinese agency Xinhua reported.
As the world's major emerging markets, China, Russia and India established the cooperative mechanism "not only out of the trend of multi-polarity, but also the need for common progress" Wang stressed.
The Chinese foreign minister also said the three nations should make more efforts to reform their economic structure, encourage innovation and transform industrial patterns.
On global economic governance, Wang called for gaining more say for emerging markets through frameworks of the Group of 20 and BRICS.
"China is ready to take the opportunity of this year's G20 summit to be held in Hangzhou, east China's Zhejiang province, to exchange views with Russia and India on new ways to speed up world economic recovery," said Wang.
Indian Foreign Minister Swaraj echoed Wang's position saying as three large, emerging economies, Russia, India and China "share similar approaches and could benefit from coordinating our positions".
"BRICS is an important framework in this regard and we look forward to active participation of all members in the meetings of BRICS during our presidency this year," Swaraj said.
The three foreign ministers also discussed the fight against terrorism, piracy, and drug smuggling.
"The RIC countries must lead the way in getting the international community together to counter terrorism through joint action, including at the UN," Indian Foreign Minister Swaraj said at the meeting.
With two of these nations being permanent members of the United Nations Security Council, the RIC group plays a crucial role in global politics. All three have taken similar stands on Syria, vociferously opposing the demands by Western capitals to oust Syrian President Bashar Al-Assad.
Wang, on Monday, stressed that cooperation among Beijing, Moscow and New Delhi "is an open mechanism, not targeting any third party and having no intention to ally to confront others".
Indian Foreign Minister Sushma Swaraj also held a bilateral meeting with her Chinese counterpart Wang in Moscow ahead of the trilateral talks.
"As this year's G20 summit will be held in China and meetings of BRICS leaders are to take place in India, the two countries should support each other's effort in this regard," Wang told Swaraj.
India will host the 8th BRICS Summit in Goa in October this year.
China is the top trading partner of both Russia and India.
The three countries are also the biggest shareholders in the China-led Asian Infrastructure Investment bank, apart from being founding members of the New Development Bank launched by the BRICS.