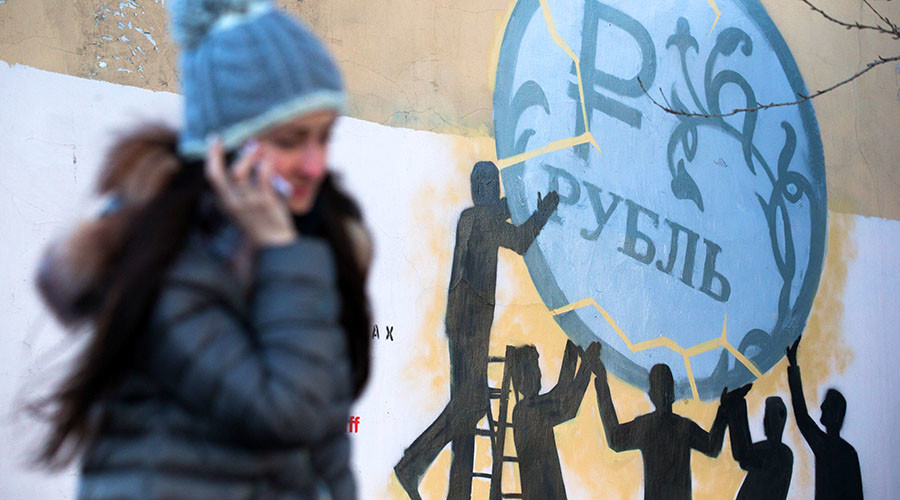 Resurging crude prices have helped the Russian ruble become the best performing emerging markets currency this year. Since its January 21 historic low against the dollar at 85.6, and 93 to the euro, the ruble has gained over 20 percent on major currencies.
With Brent crude hovering around $41 per barrel on Thursday, the Russian currency was trading at 77 rubles against the euro and 70 against the greenback.
The rally has erased the currency's losses for 2016.
However, analysts say a further surge in crude prices is questionable and would be unwarranted.
"The ECB will cut deposit rates by 20 bps (basis points) and extend its bond buying program by one year. This could be bullish for the dollar and bearish for oil," said French bank Societe Generale, quoted by Reuters.
"Moreover, recent price gains are somewhat tenuous, because they've been driven by market sentiment, which can change quickly, and by supply disruptions, which are temporary," it added.
With US oil inventories at record highs despite strong demand, the meeting between OPEC and non-OPEC members led by Russia on a production freeze becomes crucial for the price of crude.
According to Russian Energy Minister Novak, producers of three-quarters of the world's oil are ready to cap output.
Oil prices hit 12-year lows of $27 in January. This prompted talks between the world's two biggest oil producers – Russia and Saudi Arabia – who agreed on an oil production freeze at January levels.
Qatar, Venezuela, Ecuador, Algeria, Nigeria, Oman, Kuwait, the United Arab Emirates said they are ready to join the agreement. This would be the first crude production pact since 2001.
Iran and Iraq have welcomed steps to stabilize oil markets, but haven't joined the deal.
Analysts have said that even though the production freeze by Russia and Saudi Arabia can stop the glut from expanding, it can hardly reduce it. Iran wants to regain its market position with the lifting of sanctions, and is planning to dramatically boost its output.
Nigeria's Oil Minister Emmanuel Kachikwu said the meeting will be held on March 20 in Russia. The Russian Energy Minister said the day and place were not yet chosen, the meeting could take place on any day from March 20 to April 1 in a Russian city, Doha or Vienna.