By Lise Alves, Senior Contributing Reporter
SÃO PAULO, BRAZIL – Despite reports of shootings and police confrontations at some of Rio de Janeiro's largest favela complexes, the city's Public Security Institute (ISP) announced this week that May 2015 registered the lowest rate of homicides for the month in the past 24 years. The announcement comes after a wave of reported assaults around the affluent Zona Sul (South Zone) neighborhoods, which had created a sense of increased insecurity.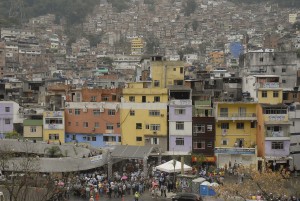 "The indicators today show the work of the military and civil police," Rio's governor Luiz Fernando Pezão told reporters. "We know we have to improve public security, but we are moving along. The ISP data shows that we are on the right track," added the official.
According to the ISP, 344 homicides were reported during the month compared to 650 registered in May of 1991, when the data first started to be recorded and 22.5 percent fewer ones than in May 2014. The institute also showed a reduction of robberies and auto thefts during the month, when compared with the previous year, although cellphone robberies and those in buses increased.
However, the city's favela communities face another danger altogether. Less than 24 hours after the ISP report was released, intense shooting was reported in Rocinha, one of Latin America's largest favela complexes. There were reports that at least one teenager was grazed by a stray bullet which entered through an open window in his house. According to the police's Special Operations Command (COE), officers were in the favela combating drug traffickers.
Daily O Globo reported that Eduardo Barbosa's thirteen-year-old son was grazed in the head by the bullet as he was getting up from the couch. "It is getting difficult to live here. There are constant shooting sprees. It is like we were living in the Gaza Strip," said Barbosa.
Since the beginning of the year several shooting incidents involving police officers stationed in some of the city's favela complexes have been reported, with several deaths of residents being blamed on police brutality.