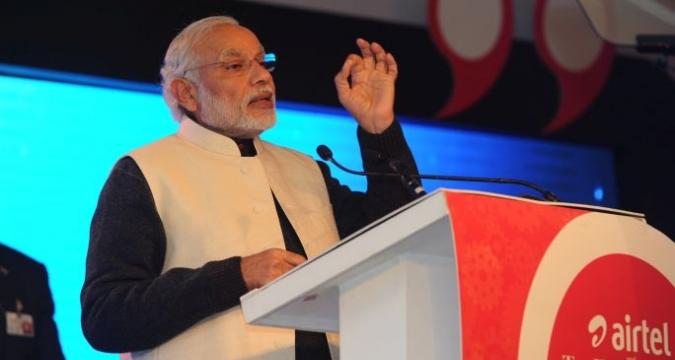 Several Russian officials attended the Global Business Summit, an annual event organized by 'The Economic Times,' India's largest business newspaper, and St. Petersburg International Economic Forum (SPIEF).
Two SPIEF panel sessions had been held at The Global Business Summit for the first time: "Fulfilling the Indian–Russian economic promise" and "BRICS growth agenda: investment hot spots in Russia".
"In today's world, everything is inter-connected, no nation can live alone, and the actions of each state may affect all the others. Economic policy should not be used to only solve domestic problems, but should serve the global interests of all mankind as well," Prime Minister of India Narendra Modi said at the opening ceremony.
Modi was in Russia barely over a month ago on an official visit, during which he and Russian President Vladimir Putin agreed to create sustainable communications between the business communities of both countries. They were speaking not only about strategic projects, but the development of small and medium-sized businesses. This is what analysts, politicians, and executives said at the international business forum.
Delegations from some regions of Russia; Republics of Mordovia, Bashkortostan, Kostroma and Penza Oblasts; attended this year's forum.
Bashkortostan is one of Russia's leading regions when it comes to co-operation with India. In 2014, trade turnover with India amounted to nearly $400 million, and 2015's figures are likely to match this. The region has a long history of relations with India, and cooperates in areas such as aircraft engines. The Ufa Engine Industrial Association (part of the United Engine Corporation) is the main company arranging licensed production for jet engines in India, used for the country's training aircraft; the HJT-36 Sitara. Engines are currently being assembled from components supplied by the Ufa Engine Industrial Association, but there are plans to start production of parts in India as well.
"Localization is a prolonged process. You cannot rush things when it comes to implementing new technologies. Nevertheless, we are making good progress," said Sergey Novikov, Minister of Economic Development of Bashkortostan.
Russian agri-businesses see good prospects in India, as does the fertilizer manufacturing sector.
"Of particular interest to us are projects in the agricultural sector. We have a fertilizer plant in the town of Meleuz; the Meleuz Mineral Fertilizers JSC. We would like to have India purchase equity interest in this company," said Novikov.
Also attending the forum this year were representatives of regions that until recently were focused only on developing their European trade relations.
Vladimir Mazov, Deputy Minister of the Mordovian Republic, said, "18 months ago, the region was not active in pursuing contacts with Asian countries. Things have recently changed. China, South Korea and India now are viewed as new potential partners for the development of our republic. Most importantly, the Indian side has shown obvious interest as well."
"First, we are talking here about freight railway coach building; the supply of spare parts. Our colleagues are interested in cast products for railway cars. We agreed to work in this direction in future. We are already supplying some electrical equipment and converters, and now we have agreed to look more closely at ways of intensifying this cooperation. We are talking here about supplying components for Indian electric locomotives. Secondly, we are interested in everything connected with cable products that use optical fibers. India has a great need for these," said Mazov. He also said there were interesting ideas in the pharmaceutical and food sectors. Indian business leaders interested in setting up joint greenhouses in the region will visit Mordovia soon. They are planning to grow tomatoes and other vegetables.
Paul Alekseev, Deputy Governor of the Kostroma Oblast, said good prospects exist for projects in the timber and jewelry sectors. Today, significant amounts of precious stones used by Kostroma jewellers are imported from India.
Indian business leaders are also studying investment opportunities in Russia, and are ready to fill the recently formed niche in this market.
"I am half Russian, having lived in Russia for over 20 years. I know that Russia offers great potential," said Shiv Vikram Khemka, vice-president of a large Indian investment company, the SUN Group. "But we need more direct contacts at the level of companies".
According to Varinder Aggarwal, vice president of Inspur Technologies, Indian businesses operating in the Russian market have some difficulties due to lack of knowledge of the local business culture and legislation, but these problems are surmountable.