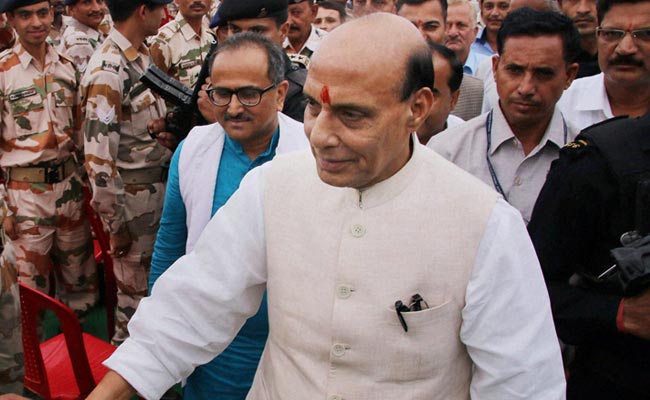 Rajnath Singh will visit China this week, the first trip by an Indian Home Minister to the country in a decade during which the two nations will discuss ways to boost security ties especially on fighting cross border terror and smuggling of Chinese arms to militants in the northeast.
Mr Singh's five-day visit from November 19, the first after the tour of then home minister Shivraj Patil in 2005, comes in the backdrop of steady improvement of relations between both the countries while streamlining mechanisms to address the vexed border dispute.
During his visit, Mr Singh, the second highest ranking Indian leader after Prime Minister Narendra Modi's to visit China in May this year, would spend three days in Beijing followed by a two-day stay in Shanghai.
Besides holding talks with his counterparts in China's political dispensation, Mr Singh is also expected to call on high level Chinese leaders.
His visit closely follows a rare visit by China's topmost military official to India.
Gen Fan Changlong, vice chairman of China's Central Military Commission (CMC),  visited India and Pakistan this week, also the first tour by China's highest ranking military official to both the countries in a decade.
Both Indian and Chinese officials view Mr Singh's visit as an opportunity to consolidate efforts by both sides to build political trust initiated during the visits of President Xi Jinping to India last year followed by Prime Minister Modi's trip here.
While the issues relating to standoffs at the border between both the troops were being addressed by the Working Mechanism for Consultation and Coordination (WMCC), Singh's visit is expected to firm up security cooperation in various fronts.
China for its part has pressed huge number of security forces to crackdown on Al-Qaeda-linked East Turkestan Islamic Movement (ETIM) militants in Xinjiang who had bases in Pakistan's tribal areas.
India too faces the constant threat of cross border terrorism emanating from Pakistan across the Line of Control.
Indian officials stress that ironically both countries faced cross border terrorist threat from a "joint source" which happens to be Pakistan.
Besides issues relating to terrorism, Mr Singh's talks are expected to crystallise security cooperation between the two countries including more effective crackdown by China in limiting arms supplies to militant groups in India's northeastern states.
The lessons in combating terrorism by the forces of the two countries has formed integral part of five rounds of the annual Sino-Indian joint military exercises.
Significantly ahead of Mr Singh's visit, China, which is consolidating its all-weather ties with Pakistan with $46 billion economic corridor between the two countries, has also expressed "willingness" to stay in touch with both India and Pakistan on counterterrorism-related issues raising expectations that it may take up New Delhi's concerns about Pakistan-based terrorist groups with Islamabad.
"Chinese side is willing to stay in communication with India, Pakistan as well as other countries in the fight against terrorism," Chinese Foreign Ministry spokesperson Hua Chunying had said here ahead of the Sino-India counter-terrorism dialogue held early this month in New Delhi.
Before the talks, Indian officials said New Delhi that this time China's help will be sought to prevail on Pakistan to rein in militants, considering India has taken a number of measures to improve ties with China including lifting all security restrictions on Chinese investments in firms like Huawei besides e-visa facility for Chinese tourists.
China too wants to have a more secure environment in Pakistan for its huge investments.
China is in the process of recalibrating its policy after the fall of the military junta in Myanmar which thrived for decades with its military and political support in view of the massive poll victory of opposition leader Aung San Suu Kyi.