The sun is shining and Russian wheat exporters should be making hay.
Farmers are reaping one of their biggest harvests. On top of that, a slump in the ruble that's hurting domestic businesses should be a boon for exports as many costs shrink in dollar terms.
Instead, shipments of wheat abroad are seen down by a quarter for August.
For that, the industry can thank President Vladimir Putin's efforts to restrain prices of staples such as bread as Russians suffer collapsing economic growth and inflation near a 13-year high. His government has imposed a sliding-scale export tax with a burden that grows as the ruble weakens, curbing the price that exporters are willing to pay for the local crop.
The ruble is down 15 percent against the dollar over the marketing season that began July 1. That means Russian suppliers are able to cut their prices compared with the offerings of competitors from the U.S. or Europe.
Export Tax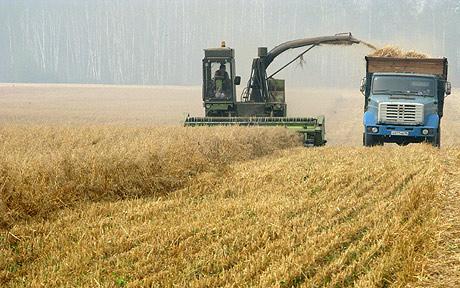 "A weaker currency is usually good for exports, but it's a little more difficult for Russia right now," Matt Ammermann, a commodity risk manager at INTL FCStone in Plymouth, Minnesota, who focuses on the Black Sea region, said Aug. 26. "If there was no export tax, more wheat would be flowing out."
The tax, in force from July 1, charges exporters at least 50 rubles a metric ton but that rises as wheat prices climb above 11,100 rubles. Prices have been higher than that for much of July and August, according to Bloomberg calculations using data from the Moscow-based Institute for Agricultural Market Studies, or IKAR.
In dollars, Russian wheat cost $184 a ton last month, down 24 percent in the past year, figures from IKAR show. Converted into the local currency, the prices have grown 20 percent to about 12,700 rubles since the start of July.
The duty stalls export growth that "would have been natural in a situation like this,"Igor Pavensky, deputy marketing director of Moscow-based grain carrier Rusagrotrans, said in an Aug. 24 research note. Risks from committing to shipments "may easily override" the potential for profit, he said.
Export Data
Wheat exports will probably drop 26 percent to 3.1 million tons in August from a year ago and 17 percent to 2.5 million tons in September, Pavensky said in a phone interview on Aug. 28.
In fact, there's plenty of confusion over the size of the export slump. While Pavensky uses port shipments to estimate the slide in July at 19 percent from a year before, government data show a collapse of 46 percent for the month.
Customs officers may be taking longer than usual to check export statements from traders because of the tax and so register deliveries later, he said.
Even the future of the tax is in doubt, potentially putting off transactions. Russian groups including bakers and pig farmers have called for the tax to be modified, worried it reduces farmers' incentives to sow the grain they need. Prime Minister Dmitry Medvedev has invited proposals on changes by Sept. 10.
Farmers have slowed sales of their crop, betting they may get a higher price if the ruble keeps sliding and the tax is relaxed, according to Pavensky.
'Main Issue'
"The main issue with the wheat tax is that there is a lot of uncertainty," Frank Rijkers, an agricultural commodities economist at ABN Amro Bank N.V., said by phone from Amsterdam on Wednesday. "Traders are not quite sure how Russia will work this out."
There will still be pressure to find markets for Russia's bumper harvest in coming months. The nation, the world's third-largest wheat exporter last season according to Bloomberg calculations, may reap 62 million tons of wheat this season, Moscow-based market researcher SovEcon estimated. That would be Russia's third-biggest crop, based on government figures.
The U.S. Department of Agriculture forecasts a record 23 million tons of shipments from Russia this year. The monthly exports are unlikely to drop much further than they have so far, according to Dmitry Rylko, a director at IKAR.
"There's an ample supply of grain, including wheat, along the entire chain from the farmer to the port," Rylko said. "So the export animal must be fed."