Vladimir Putin believes that the world has accumulated a vast technological potential
MOSCOW, November 9. /TASS/. Russian President Vladimir Putin is certain that Russia must sense and embark on the newest trends in science and engineering to make transition to a new economy.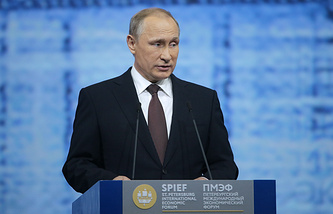 "For Russia it is important to grasp the main technological development trends, to understand our strengths and weaknesses in making transition to the next generation economy," Putin said at the conference Into the Future: Russia's Role and Place arranged for by Russia's Sberbank.
Putin believes that "the world has accumulated a great, vast technological potential, but it has not been tapped to the full yet."
"This is well-seen in the inability of the world's leading economic centers to achieve stable high economic growth rates," Putin said. "The leading countries see innovations as an inalienable, key element of a new phase of global development and shape their social and economic strategies accordingly."
As he dwelt on the next generation economy, Putin mentioned its key features: "high mobility, convenience of services and commodity supplies, the provision of services that can be obtained at any place and at any time in the easiest way, by touching the screen of the telephone or electronic tablet."
Putin said that "digital technologies have their effects on all aspects of society's life."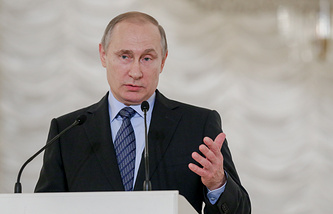 "Such old-time spheres as the health service, pharmaceuticals, power production and urban environment acquire new quality before our eyes and the whole mode of life is changing under the influence of digital technologies," he stated.
Such global changes, he added, pave the way for cardinal rise in labor productivity and create unique opportunities for mastering new market niches and deriving real benefits.
The digitalization of public and private life requires reliable protection of personal and state interests, he went on.
"The systems of network access, digitalization of public and private life require reliable protection of the interests of citizens and state as a whole," Putin said.
"There is the need to fully take into account the possibilities of technological progress and its potential risks and form an efficient strategy of developing technologies in the country," Putin stressed.
The modernization of production with the lack of a due system of training staff may lead to structural unemployment, he added.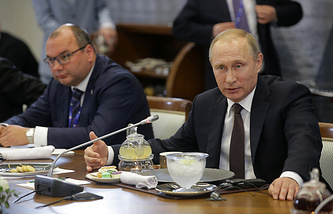 One of the key tasks in developing technologies is to adopt systemic measures on encouraging the growth of domestic industry of information technologies, Putin said, recalling that over the past years this sector has been the driver of national economy.
Since 2010, the volume of implementing works and services in this sphere grew by more than two-fold. "This is a very solid growth amid the growth of other economic areas," he said.
The Russian leader said by the end of last year the figure reached 740 billion rubles ($11.7 billion). Experts estimate that Russia's IT industry exports in 2015 stood at $6.7 billion and the arms exports at $14.5 billion. "We will soon catch up with the arms exports in these civilian sectors," Putin added.
New projects in digital economy
The Russian president  has urged implementation of new projects in digital economy, not only in Russia but all over the Eurasian Economic Union.
"It is essential that all our initiatives, long-term plans regarding new digital economy instantly take shape all over the Eurasian Economic Union, that means that they should go beyond national borders," Putin said.
Russian products on global market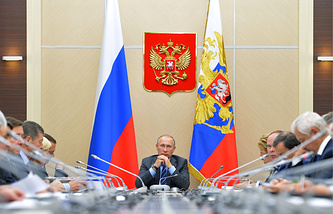 The president has instructed the cabinet to analyze what hampers domestic companies to promote their products on global market and remove these obstacles.
"We know examples of small Russian companies that grew to global leaders and offered breakthrough competitive solutions. We need to ensure emergence of more companies like this which are able not only to develop technology, but also to promote it on the market as a final and successful product. I ask the government to make a list of factors that hamper the development of such companies and to prepare a plan of how to remove these obstacles," Putin said.
According to Putin, modern digital economy is based on highly skilled and well paid labor.
"We should improve the quality of all types of education," the President said.
According to him, the state will form such a system of competences which is receptive to emergence of new promising technologies.
"We need to ensure that young people can get the most effective training in these occupations, which meet the highest global requirements and can stay ahead," Putin said.