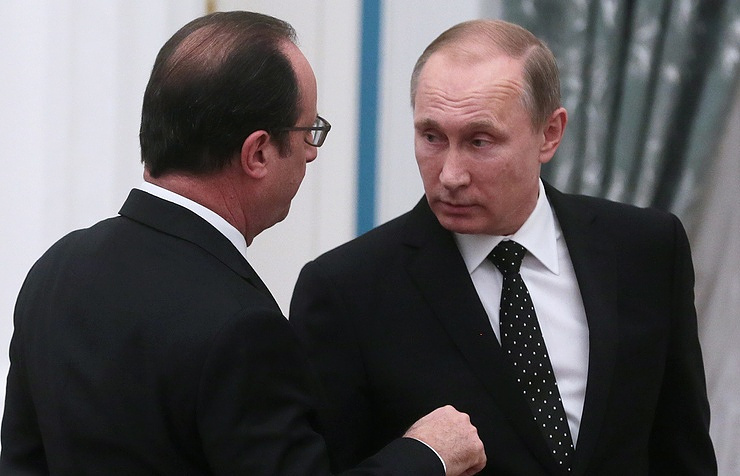 Russian President Vladimir Putin and his French counterpart Francois Hollande on Thursday discussed by phone the settlement in Nagorno-Karabakh and Ukraine, the Kremlin reported.
"Vladimir Putin informed Francois Hollande as head of a state-co-chair of the OSCE Minsk Group on the Nagorno-Karabakh settlement of the results of the June 20 three-party meeting with Presidents of Azerbaijan and Armenia Ilham Aliyev and Serzh Sargsyan in St. Petersburg," the statement said.
"The leaders of Russia and France expressed the hope that the results achieved at that meeting will contribute to promotion of the peace process. It has been agreed to continue active joint work within the framework of the OSCE Minsk Group in that important sphere," it said.
The two presidents also discussed other urgent issues on the international agenda with the stress on efforts to settle the Ukrainian crisis.
The situation along the line of contact in the Nagorno-Karabakh conflict zone deteriorated dramatically overnight to April 2, and fierce clashes began. The parties to the conflict accused each other of violating the truce. The defense ministries of Armenia and Azerbaijan agreed on a ceasefire with Russia's mediation and later reported that hostilities stopped in Nagorno-Karabakh from 11:00 a.m. Moscow Time April 5.
Talks on Nagorno-Karabakh have been held on the basis of the so-called Madrid Principles suggested by co-chairs of the Minsk Group of the Organization for Security and Cooperation in Europe (OSCE) – Russia, France and the United States – in December 2007 in the Spanish capital.
They include three key principles written in the Helsinki Final Act: refraining from the threat or use of force, territorial integrity and the right to self-determination.
Nagorno-Karabakh sought independence from Azerbaijan at the end of the 1980s, which resulted in a war between Azerbaijan and Armenia that claimed the lives of 25,000-30,000 people between 1988 and 1994. Since then, the territory has been controlled by Armenia.
The OSCE Minsk Group acts as a mediator. It is a mechanism designed to promote a peace solution to the conflict between Armenia and Azerbaijan over Nagorno-Karabakh.
The group is led by co-chairs France, Russia and the United States. It also comprises Belarus, Germany, Italy, Sweden, Finland, and Turkey, as well as Armenia and Azerbaijan.