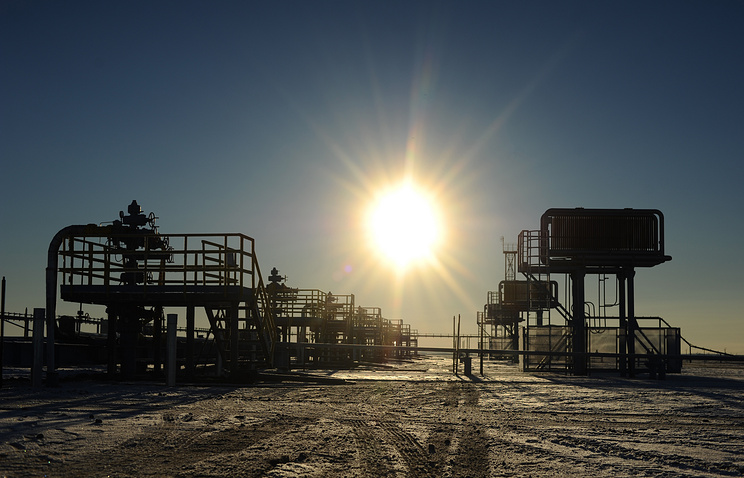 Russian President Vladimir Putin hopes that oil shipments from Vostochno-Messoyakhskoe field abroad will contribute to stability of the global energy market, he said on Wednesday at the ceremony of putting the new field into commercial operation.
The President said that the field will use oil pipeline Eastern Siberia – Pacific Ocean. Oil will be shipped to the domestic market as well as global markets, and will help the development of Russian enterprises, contribute to increasing stability of global energy markets.
Putin noted that after Vostochno-Messoyakhskoe field, Zapadno-Messoyakhskoe field will be developed:
"We have interesting and very important work for the country ahead."
The prsident has congratulated energy workers with launch of Vostochno-Messoyakhskoe oilfield. Initiation of its commercial operation is an "important event in life of the Russian energy sector."
According to Vladimir Putin, Vostochno-Messoyakhskoe field is "the one of the major Russian large northern oil fields on land." Putin said that launching the field is a great result of work of groups of people, which began a decade ago, when thegeological surveys were first carried out.
"Explored oil-bearing areas are located in the zone of the harsh climatic conditions. In order to produce oil at the field and supply it, we used the work of thousands of professionals, complicated technology and massive investments," Putin said. He added that the project brings together leading Russian companies – Rosneft and Gazprom.
Putin noted that "economic development of the Arctic territories, launch of new major deposits have been possible thanks to major infrastructure projects." He cited the order of the Russian government from 2010 on the design and start of Zapolyarye-Purpe oil pipeline construction as an example. "This oil pipeline and later Eastern Siberia – Pacific Ocean pipeline will be used for oil supplies to the domestic market and global markets," Putin said.
Investment in the new oil field 
It has been announced that investment in the development of Vostochno-Messoyakhskoe field (Gydan Peninsula, Yamalo-Nenets autonomous district) until the end of 2016 will amount to $1.32 bln, and $3.97 bln – until 2040.
"Investment in the project from 2010 until the end of 2016 will amount to 85 bln rubles ($1.32 bln). Total investment until 2040 – around 256 bln rubles ($3.97 bln), total tax revenues until 2040 – 881 bln rubles ($13.67 bln)," according to the press release.
Vostochno-Messoyakhskoe oilfield with the license held by Messoyakhaneftegaz , the joint venture of Rosneft and Gazprom Neft, is scheduled to reach the production peak of 5.6 mln tonnes of oil per year by 2020.
Production in 2016 will be 577,000 tonnes of oil. Such information is contained in pre-reads to the official opening ceremony of field commercial operation.
"Oil production in 2016 is expected to be 577,000 tonnes. The production peak of 5.6 mln tonnes is forecast for 2020," the pre-reads said.
High technologies were applied in preparation of Vostochno-Messoyakhskoe oilfield for commissioning, Chief Executive Officer of Gazprom Neft Alexander Dyukov said. "Implementation of this project definitely enabled us to acquire experience and competencies needed for further advancement in the Arctic," he added.