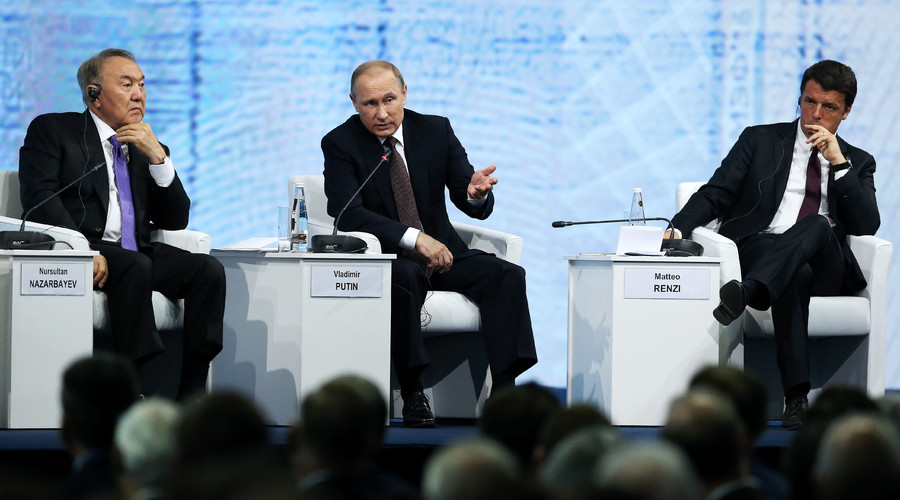 Russia and Asian countries should create a vast economic space, said President Vladimir Putin, speaking at the 20th St. Petersburg International Economic Forum (SPIEF).
"With our partners we believe the Eurasian Economic Union may be one of the centers of a broader integration [with Asia]," said Putin on Friday.
The EEU is a trade bloc established in 2015 on the basis of the Customs Union of Russia, Kazakhstan and Belarus. It currently has five members: Russia, Armenia, Belarus, Kazakhstan, Kyrgyzstan, while Tajikistan is a prospective member.
"We are suggesting the creation of a larger Eurasian partnership involving the Eurasian Economic Union and countries with which we have already had a close relationship: China, India, Pakistan, Iran," he added.
According to the Russian leader, the countries could start with industrial and investment cooperation as well as making customs clearance easier and protecting intellectual property rights.
Kazakh President Nursultan Nazarbayev, speaking at the SPIEF, said Brussels should cooperate with the EEU and not try to isolate it.
"The disintegration and economic isolationism will not solve any internal problems; it will be only a self-deception. The Eurasian Economic Union is interested in an efficient and stable European Union, which wants to cooperate closely. Similarly, it's advantageous for the United Europe to cooperate with our union," he said.
Nazarbayev added that the Shanghai Cooperation Organization (SCO) will soon be joined by India and Pakistan, while Iran could join, as well.
"Thus, this organization that will unite three billion people is becoming very powerful. Isn't it profitable to anyone to cooperate with such an organization?" he said.
SCO includes China, Russia, Uzbekistan, Tajikistan, and Kyrgyzstan. Other countries holding observer status with the organization include India, Iran, Belarus, Pakistan, Afghanistan and Belarus.