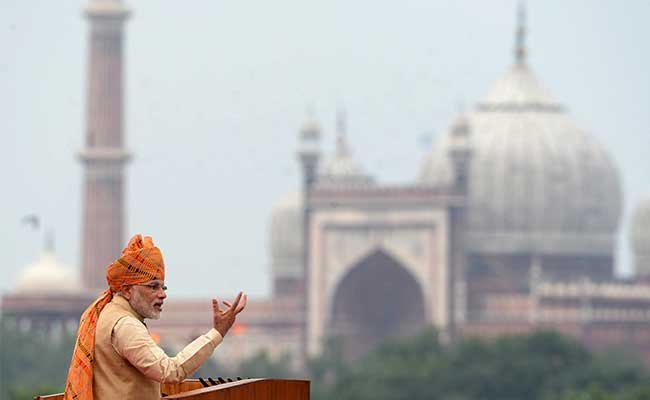 NEW DELHI: The Prime Minister's resolve today to encourage and fund start-ups to create jobs and promote the spirit of entrepreneurship has evoked much interest from stakeholders who feel it could well add hundreds of billions of rupees of fresh output to the Indian economy.
Both the Federation of Indian Chambers of Commerce (FICCI) and the Confederation of Indian Industry (CII) said the potential and promise that the prime minister's resolve on India's 69th Independence Day holds for creating wealth through start-ups was immense.
"Creating a few million entrepreneurs across the country will not only create many more million jobs but also provide livelihood opportunities for the poor in remote corners of the country," said FICCI president Jyotsna Suri.
The CII top brass felt this initiative will be one of the pillars of the future.
"The parameter of employment in financial incentives to new manufacturing units as stated by hon'ble prime minister in his Independence Day Speech can be a game-changer for labour-intensive sectors like textiles, leather, food processing and so on," said CII president Sumit Mazumder.
According to Sandeep Aggarwal, founder and chief executive of Droom, a silicon valley start-up which is now a virtual marketplace in India for automobiles, Mr Modi's start-up initiative has the potential to generate additional wealth of $200 billion from digital economy and $300-500 billion from other industries.
"Government support and world class infrastructure can help start-ups and entrepreneurs to blossom and make India the locomotive of global GDP growth and help India to go from 5 percent of global GDP currently to 20 percent in next 15 years," Mr Aggarwal added.
During his speech, Mr Modi said the country's youth, notably the deprived, will be given opportunities and support to become entrepreneurs in their own right. "In the coming days, start-ups will be promoted in every corner of the country. Start up India, stand up India," the prime minister said.
"All banks in our country must contribute to a start-up revolution. Each of the 125,000 bank branches must assist one Dalit or one tribal entrepreneur and one woman entrepreneur. They must also become entrepreneurs in the future," he said.
"You all see, in no time a network of start-ups will mushroom in India. New entrepreneurs and enterprises will be created. They will give jobs to one, two, three or four people, bringing considerable change to India's economy," he added.
"For our country's future, the new mantra should be: 'Start-up India, Stand-up India'."
Even at the launch of "Digital India" week on July 1, Mr Modi had said India's youth needed support for starting new enterprises and his government was committed towards helping start-ups.
"In the world today, in the area of start-ups, the presence of Indian youth is very large. In the coming years, India will be ranked second after the United States, in start-ups. But his needs encouragement," he had said at the event.
A study released by ASSOCHAM earlier this month has predicted a score of dollar billionaires and several new millionaires to rise in India by 2020 with a boom in the area of start-ups, notably in digital domain, e-commerce and financial services.
"India will be among the top among the Asian start-ups along with the Chinese and the South East countries. However, the structural problems in China are likely to create road blocks for the start-ups there. No such issue confronts the Indian start-ups," the study said.
At the same time, the study added, even as the markets watchdog, the Securities and Exchange Board of India (SEBI), is putting a friendly regime in place for start-ups to raise funds from the bourses, it would take some time before financing is available from this channel.