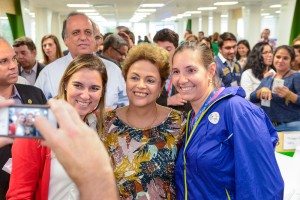 Brazil's President Dilma Rousseff visited the Rio 2016 Organizing Committee with representatives from the three levels of government yesterday (May 12th), seeing the headquarters for the first time. The aim of the congregation's visit, which included state governor Luiz Fernando Pezão and Rio's mayor Eduardo Paes, was "integration."
In her visit President Rousseff met with the president of Rio 2016 Committee, Carlos Arthur Nuzman, and visited the Integration Test Lab, the laboratory where they are currently testing the sporting results systems. She also met with Rio 2016 employees and greeted the Rio 2016 mascots Tom and Vinicius, who were named after famous Brazilian singers Tom Jobim and Vinicius de Moraes and selected as the public favorites.
After the meeting, Dilma reinforced the commitment of the federal government to support the successful organization of the first ever Olympic and Paralympic Games in South America.
"It was a very productive meeting, where I committed myself to coming here systematically over the coming months to attend new business and strategic meetings. I promised President Nuzman that we will integrate ourselves more deeply," she said.
On the same day, President Rousseff also visited a Minha Casa Minha Vida (My House My Life) site in Cosmos in Zona Oeste (West Zone), delivering the keys to 1,484 houses. The homes are reserved for families with monthly income below R$1,600.
"Perhaps the most important achievement of a family is a home, a place where people can settle down to be able to dream of a future. And here in Rio this can now happen with our program and partnership with state and municipal governments," said Dilma upon handing over the keys.
According to the city of Rio, the Minha Casa Minha Vida program launched in 2009 now records 71,925 contracted units (delivered and under construction), and 35,023 of these are reserved for low-income families. Funded primarily through the PAC 2 (Growth Acceleration Program) the program calls for at least one third of units to be given to families making up to three minimum wage salaries.