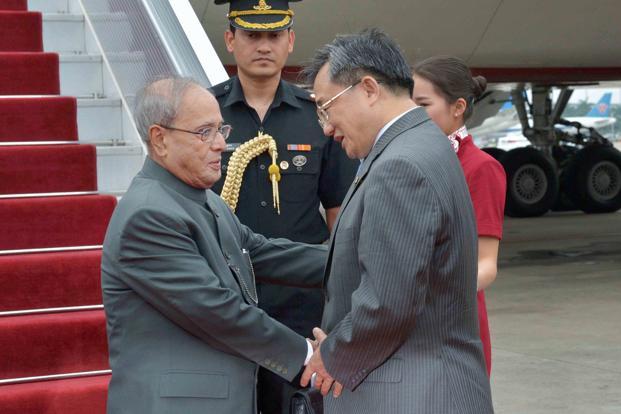 Guangzhou/Beijing: President Pranab Mukherjee on Wednesday said that stability in the India-China relationship had resulted in increased economic cooperation between the two even as he pitched for greater Chinese investments into India and sought greater market access for Indian goods into China.
In response, senior Chinese officials in Guangzhou said China was looking to implement a new import policy soon that would accelerate imports from India.
On the second day of his ongoing visit to China, Mukherjee, addressing a group of Indian and Chinese businessmen, said, "India would like to see a greater market (access) for our products in China, particularly in sectors where we have natural complementarities—as in drugs and pharmaceuticals, IT and IT-related services and agro products. It is a matter of satisfaction that there is emerging focus on two-way investment flows."
He was speaking in Guangzhou, capital of the prosperous Guangdong province along China's eastern South China Sea coast, before departing for Beijing on the second leg of his visit.
Though India-China trade has grown over the years, the yawning trade imbalance in favour of China has created unease in India. The balance of trade in China's favour—seen as an irritant in ties—is currently over $40 billion and India is looking to expand its basket of exports as well as increase investment flows from China to plug the trade gap.
This is Mukherjee's first visit to China as president and is seen as aimed at addressing issues that have recently cropped up in relations. His predecessor, Pratibha Patil, had visited China in 2010.
Mukherjee's visit is the first in a series of high-level interactions between India and China in 2016. Prime Minister Narendra Modi is expected to visit China in September for the G-20 summit, and Chinese president Xi Jinping is to visit India in October for the BRICS (Brazil, Russia, India, China, South Africa) meet.
In his speech, Mukherjee noted economic ties between the two countries had grown considerably since 2000, when trade was just under $3 billion. In 2015-16, it crossed $70 billion, he said.
"India believes there is great potential for economic and commercial cooperation among our two nations… The stability of our relationship in recent years provides an enabling basis for utilizing these opportunities and coming together," he said in a reference to the unsettled border dispute and other irritants in bilateral relations.
The boundary dispute stems from the two countries' brief but bitter war in 1962. Despite countless rounds of talks, the dispute has yet to be settled, and both sides frequently complain of incursions by the other.
The Asian giants are also wary of each other's engagements with third countries. While India looks at China's "all-weather relationship" with Pakistan with suspicion, China is uneasy about India's growing ties with the US and Japan.
China's "technical hold" on India's efforts to get Pakistan-based militant leader Masood Azhar designated a terrorist at the UN and its blocking of India's efforts to get into the Nuclear Suppliers Group, which controls global nuclear commerce, are recent irritants that have affected relations.
In his speech, Mukherjee said India welcomed "Chinese investments and entrepreneurs to participate in 'Make in India' and other flagship programmes of our government".
"We will facilitate your efforts to make your investments in India profitable. We must take advantage of the opportunities that abound in the growth of both our economies," he said.
Giving an overview of the economic reforms undertaken by the Narendra Modi government in New Delhi, Mukherjee said India's foreign investment regime had been liberalized and simplified. India was keen to develop its infrastructure and was establishing industrial corridors and manufacturing zones, he said.
"India welcomes your participation in these programmes. Chinese companies with inherent strengths in infrastructure and manufacturing can look towards India as an important destination in their 'Going Global Strategy'. On their part, Indian companies can partner with Chinese enterprises in the new domain of 'Internet of Things' which underlies the 'Made in China 2015' strategy," he said.
"We are committed to providing a conducive environment for more investments from China," Mukherjee said. "We stand ready to facilitate many more collaborations between industry and businesses of our two countries across different sectors."
In his response, Jiang Zengwei, president of the China Council for Promotion of International Trade, said China had invested $3.55 billion in India and more was on its way. China is expected to adopt a more advanced import policy that will increase imports from India and narrow the trade deficit, he said.
Among other products, China would be looking to source textile, auto parts and vegetable oil from India, he said.
Zhu Xiaodan, governor of Guangdong province, in his comments said that Chinese companies were looking to step up investments in India, especially in the manufacturing and infrastructure. "We fully support Chinese companies investing in India," he said.